Junkers F13
see also: Junkers F13 Production List / Junkers F13 Survivors / Junkers F13 Philatelic Items / F13 Model Kits
six seater Passenger Airliner, First Flight 25 June 1919, 322 built
developed by Junkers Flugzeugwerke, designed by Otto Reuter
Historical Background:
Junkers F13 Prototype, D-183 in August 1919 (JFM Image 1763)
The Junkers F13 was based on the experiences of the Junkers J12 airliner. The side views of both aircraft are very similar, but the F13 or J13 as it was called during its developement, got a larger fuselage and a complete new wing design. Instead of the three passengers of the J12 design, the J13 was able to accomodate up to 4 passengers plus two pilots. Between January 1919 and June 1919 about 9000 developement hours were spent into the project. On June, 25th 1919 the first F13 was flown by the Junkers pilot Emil Monz. This first F13 was c/n 533 and it was named "Annelise" after Hugo Junkers daughter Annelise Junkers. A second aircraft (c/n 531) became available three weeks later and was used for type certification in July 1919. The F13 design of Reuter was fully satisfying the demands. It became the world's first all-metal airliner and it seems to be the first aircraft, which was fully designed as a passenger aircraft.

Three month after its first flight the prototype c/n 533 Annelise achieved the World Height Record. On September 13th 1919 again Emil Monz flew the aircraft, which was now equipped with a BMWIIIa engine. On board the aircraft were eight people including Monz bringing the payload to 515 kg. The aircraft reached an altitude of 6750 meters 86 minutes after take off. That were 630 additional meters compared to the current world record of 6120 meters set up by Legagneux on a Nieuport in December 1913.

Although the F13 was not allowed to be operated in Germany after WW I due to the Allied restrictions, this aircraft became a very successfull Junkers product. It was built for more than ten years until 1929 and was very well adapted during this period according to the market demands. A total of 322 aircraft were built during these years and more than 60 different subtypes became available. The first F13 was sold to John Larsen and it was shipped to the USA in December 1919. In 1920 a sales company for the American market was founded under the name Junkers-Larsen Corporation. A total of further 25 aircraft were sold to Junkers-Larsen Corporation until 1921. Most of these aircraft were used under the designator JL6 by the U.S. Postal Departement and some were sold to Canadian Oil Companies. The sale of further JL6 aircraft in the U.S. failed due to a crash series of JL6 aircraft, which was caused by some modifications on the aircraft for the American market. A single JL6 was modified by Larsen later on into a military combat aircraft. This aircraft was equipped with a Liberty engine and 12 machine guns, which should be used for ground attacks. Larsen offered this aircraft to the U.S. Army, but they showed little interest in the socalled JL12. Nevertheless, the Junkers-Larsen Corporation helped Hugo Junkers and the F13 to survive the initial years of its existence, when Junkers was unable to use and sell his new aircraft in Germany.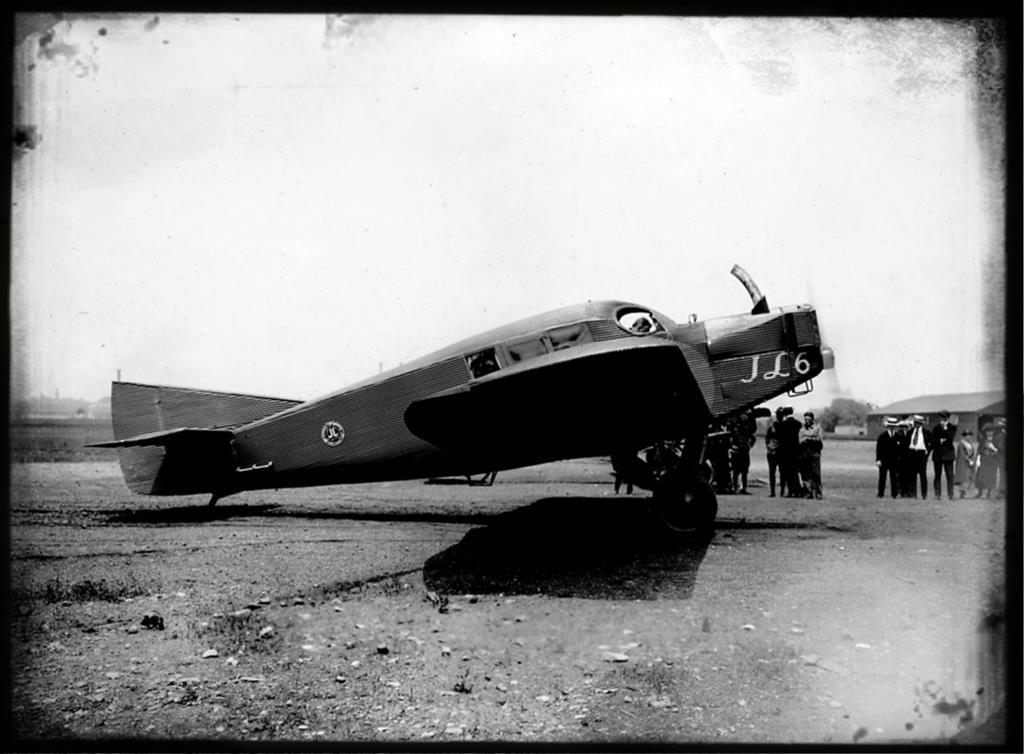 Junkers-Larsen JL-6 at U.S. Naval Air Station Anascostia, DC, 10 Jun 1920 (J. Eaton, U.S. Navy)
Larsen performed a lot of presentation flights within the USA during 1920 and 1921. During one of these presentations Larsen proofed the capability of the F13 for continous flights. On September, 28th 1921 Eddie Stinson and Lloyd Bertaud took off with a JL6, equipped with a BMW IIIa at Mineola. When they returned to ground after 26 hours 5 minutes and 32 seconds, the JL6 had achieved the World Record for continous flights. About 4270 kilometers were flown, when they touched down. One year later in August 1922, the F13 D-191 Marabu became the first passenger aircraft to cross the Alpes.

Also in 1921 Junkers was not allow to operate his F13 aircraft in Germany. But the Allies now were interested in the Junkers design. Therefore Junkers was advised to built 23 Junkers F13 aircraft as reparation deliveries to France (7 aircraft), England and Italy (5 aircraft each), Belgium (3 aircraft) and Japan (3 aircraft). Again, Junkers was lucky enough to keep his F13 production line running through 1921.

In 1922 the ban on Germany's aviation industry was slightly reduced and the Junkers F13 was allowed to be operated by German air transport companies. The first F13s were delivered to Danziger Luftpost and Lloyd Ostflug at this time. During the following years a total of 94 aircraft were delivered to German airlines. Most of these aircraft were later transfered to Lufthansa.

Following Germany, the second largest F13 fleet was operated in the Soviet Union. In 1922/3 Junkers signed a contract with the Soviet Government to set up an aircraft facility at Fili, where a Soviet aircraft facility should be developed with the help of Hugo Junkers. A lot of F13 were built or modified here under the designator Ju 13 or for military purposes under the designator PS-2. These Ju 13 served with the Soviet Army, but also with the initial Soviet airlines, i.e the Junkers Luftverkehr Russland or Dobrolet. A total of 49 Junkers Ju 13 / F13 were operated in the Soviet Union.

The Junkers F13 was the first Junkers aircraft which was sold in large numbers outside Germany. A total of 322 aircraft were delivered until 1929 to 30 countries. The aircraft was used by about 70 airlines outside of Germany. The highest annual production rate was reached in 1925 with a total of 68 aircraft built during that year. This was supported by the massive expansion of Europa Union, a division of Junkers Luftverkehr.

In 1920 a first modification of the original F13 was performed. The wing span was increased by 2,90 meters for getting a better flight performance. This modified F13 was designated F13a. Some slighter modifications were performed on the F13 design and designated as F13b, c and F13d. In 1923 the F13da became the first F13 series, which was equipped with an own Junkers engine, the Junkers L2. Compared to the prior Mercedes or BMW engine, this Junkers powered F13 was able to transport 40% more payload than the Mercedes powered F13 and 25% more payload than the BMW engined F13. The range was reduced by 250km.
Late Junkers F13ke with glassed Cockpit and modified tail unit
In 1926 the first Junkers L5 engines were mounted on the F13, which became the F13de. But due to heavier net weight, the payload had to be reduced to the old BMW/Mercedes version. Just the speed was increased by 10% against these older F13 versions, while the range was reduced like the F13da. The Junkers L5 became the major engine of the F13 by 1926. Nevertheless the F13d, f, g and F13h were also equipped with a wide varity of other engines.
Aircraft

year
engine
length
in m
span
in m
wing area
im sqm
net weight
in kg
payload
in kg
seats
speed
in km/h
range
in km

F13

F13a

F13ba,ca,da
F13be,ce,de
F13bi,ci,di
F13bo,co,do
F13fa
F13fe
F13fi
F13fo
F13fy
F13fae
F13ge, g1e
F13he, h1e
F13ke, k1e
F13kae
F13keW
F13kai
F13kao
F13kau
F13kay
F13kue
JL12

1919

1920

1923
1925
1925
1926
1928
1928
1928
1928
1928
1928
1929
1929
1930
1930
1930
1930
1930
1930
1930
1930
1922

Mercedes DIIIa (118kW)
BMW IIIa (136kW)
Mercedes DIIIa (118kW)
BMW IIIa (136kW)
Junkers L2 (195kW)
Junkers L5 (228kW)
BMW IV (235kW)
BMW Va (265kW)
Junkers L2 (195kW)
Junkers L5 (228kW)
BMW IV (235kW)
BMW V (265kW)
Armstr. Puma (169kW)
G&R Jupiter
Junkers L5 (228kW)
Junkers L5 (228kW)
Junkers L5 (228kW)
G&R Jupiter IV (356kW)
Junkers L5 (228kW)
P&W Hornet Gear
Amstr. Jaguar (325kW)
P&W Wasp (315kW)
Jaguar-Major (420kW)
P&W Hornet (390kW)
Liberty V-Engine (294kW)

9,60
9,60
9,60
9,60
9,60
9,60
9,60
9,60
9,60
9,60
9,60
9,60
9,60
9,60
10,50
10,50
10,50
10,50
10,10
10,50
10,50
10,50
10,50
10,50
n/a

14,80
14,80
17,75
17,75
17,75
17,75
17,75
17,75
17,75
17,75
17,75
17,75
17,75
17,75
17,75
17,75
17,75
17,75
17,75
17,75
17,75
17,75
17,75
17,75
n/a

34,50
34,50
43,00
43,00
43,00
43,00
43,00
43,00
43,00
43,00
43,00
43,00
43,00
43,00
43,00
44,00
45,00
45,00
45,00
45,00
45,00
45,00
45,00
45,00
n/a

950
1075
1160
1160
1170
1225

n.a.

1350

n.a.

n.a.
1415
1450
1560
1425
1390

n.a.

n.a.

T/O 2270

690
725
655
740
830
775

n.a.

950

n.a.
n.a

885
1165
1140
1275
710

n.a.

n.a.

n/a

2 pilot +
4 pass.

170
170
170
170
180
185

n.a.

195
n.a

n.a.

210
205
205
210
180

n.a.

230

230

1400
1200
1200
1200
950
980

n.a.

930

n.a.

n.a
980
900
950
525
870

n.a.

n.a.

n.a.
Type Designators:
F13 was the initial design of 1919, powered with BMW IIIa or Mercedes IIIa
F13a with increased wing span since 1920
F13b, c, d standard versions until 1928 with Junkers L2 (a since 1923), Junkers L5 (e since 1925), BMW IV (i since 1925) or BMW Va (o since 1926)
F13f with modified wings, tail and undercarriage, same engines like d-series plus Puma (fy) and Jupiter (fae) since 1928
F13g with W33 fuselage and modified wing and Junkers L5 engine since 1929
F13h for US-market, increased wing swept and larger wing and Junkers L5 engine since 1929
F13k since 1930 with closed cockpit, toilet, modified undercarraige and wing and different engines Junkers L5 (ke), Jupiter IV (kae), Hornet and Hornet Gear (kue, kai), Jaguar (kao), Wasp (kau), Jaguar Mayor (kay)
Ju13 or PS-2 Russian built F13s since 1923 from Fili
JL6 original F13s of 1919, modified by Larsen in the USA
JL12 original F13 of 1919, equipped with Liberty engine as ground attack aircraft by Larsen.
Weblinks:
Junkers.de - Detailled F13 Story Line (German)
airwar.ru - Site with a lot of F13 Photos and textes (Russian)
Literature:
L. Andersson, S. Bitterle, G. Endres
Junkers F13. The Return of a Legend
teNeues-Verlag, 2015, ISBN 9783832732707
L. Andersson, G. Endres, R. Mulder, G. Ott
Junkers F13: The World's First All-metal Airliner
EAM Books, 2012, ISBN 9780957374409
Jan Waernberg
Junkers F13 det forsta trafikflyplanet i Sverige
Series Flyghistorisk Revy, published by SFF Medlemservice


Karlskrona 1992, ISBN 0345-3413

A. Vagvolgyi




Junkers F-13 : a Junkers repulogepek tortenete 1909-tol 1932-ig


published by Kozlekedesi Dokumentacios Vallalat, Budapest, 1990
H. Pohlmann
Prof. Junkers nannte es die Fliege
published in Motorbuch Verlag, Stuttgart, 1983, ISBN 3-87943-982-6
Wolfgang Wagner
Junkers F13 und ihre Vorläufer
published by Leuchtturm Verlag, Constance, 1976, ISBN 3-88064-015-7, 128 pages
G. Endres
The Junkers F13 in Poland
published in Air Pictorial, XXXIV, September 1972, page 362-363
National Advisory Commitee for Aeronauticas
All Metal Junkers Airplane Type F13
Aircraft Circular No. 6, May 1926
Download PDF here: NASA.GOV

introduced Jul 1996, transfered Jun 2017
contents last updated 25 Dec 2002