Zweigwerk Magdeburg Philatelic Items
Junkers Ju52 Motoren Zweigwerk Magdeburg, used 1936 to 1939

Standard Franking Machine Stamp at JFM AG in use since 1936.
Junkers Ju52, Company Logo, "Junkers Flugzeug- und Motorenwerke Aktiengesellschaft"
This stamp was in use at all JFM facilities.

The Franking Machines at different branches differ in the bottom text row
"Motorenbau Zweigwerk Magdeburg-Neustadt" for the Engine Shop at Magdeburg







Junkers Ju86 Motoren Zweigwerk Magdeburg, used 1941

Franking Machine Stamp at several JFM AG facilities in use since 1941.
Junkers Ju86, Company Logo, "Junkers Flugzeug und Motoren Werke Aktiengesellschaft"
At the bottom text line "Motorenbau Zweigwerk Magdeburg" for the Magdeburg Engine Shop
This stamp is currently just known from Motorenwerke facilities.
?Probably already used in 1937 at Magdeburg?








Junkers Ju87 Verstellschraube Motoren Zweigwerk Magdeburg, used 1942 to 1945

Franking Machine Stamp at JFM AG Magdeburg in use since 1942.
Junkers Ju87, Jumo211, VS-Schraube,
"Junkers Flugzeug-u-Motoren Werke Aktiengesellschaft Motorenbau Zweigwerk Magdeburg"
This stamp is currently just known from Magdeburg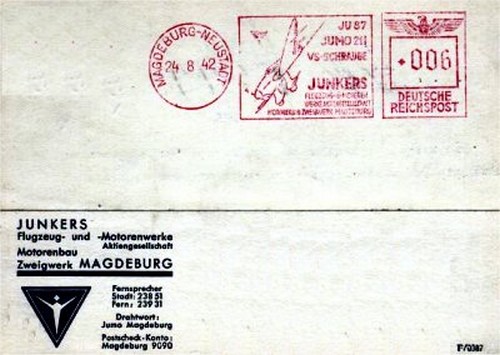 JFM Magdeburg Postcard with Ju87 Marker:


introduced Feb 2004, transfered Dec 2017
http://hugojunkers.bplaced.net/
contents last updated 22 Feb 2006