Baade (VEB Flugzeugbau) 155 (ZTL, 1959)
56-70 seater TL Shortrange Passenger Airliner, March 1959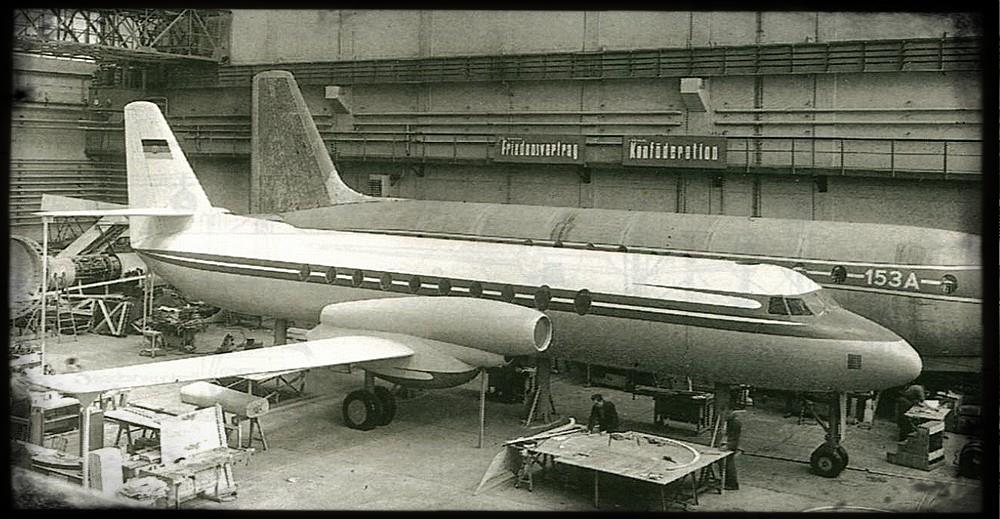 Baade 155 Mockup in front of Baade 153A Mockup
Beside the stopped Baade 155 medium range passenger airliner of 1955, another passenger aircraft was developed under the Designator 155 since 1959. This Baade 155 was designed as a short range passenger aircraft for 32-48 passengers or an take off weight of 17 tons and distances of 1500 km. It was powered by two PTL Pirna 014 engines, which were mounted over the wing.
The design was started in March 1959, when the Russian refused the Baade 153 for their market. Several designs were investigated and on 24 July 1959 the Basic layout of the Baade 155 was finished. Even as the Pirna 014 seemed to be the wrong engine for that aircraft and even as the Russian already announced, that they are also not interested in the aircraft, it was decided to continue the Baade 155 instead of the Baade 153. A 1:1 Mockup was finished in February 1960. In May 1960 several design changes were adapted to the Baade 155, which were finished in September 1960. Now the aircraft had a T-Tail unit instead of the conventional tail unit.
In September 1960 it was planned to built two flying prototypes Baade 155-V1 and -V3 and two structural test cells -V2 and V-4. The first prototype was scheduled for ist first flight in November 1962. Further six preproduction aircraft were also intended for the flight test Programme. Customer delivery of the Baade 155 was planned for 1963/64.
Doubts about the market figures for the Baade 155 finally led to the stop of the Baade 155 in November 1960.
Technical Data:
Aircraft

year
engine
length
in m
span
in m
wing area
im sqm
net weight
in kg
T/O weight
in kg
seats
speed
in km/h
range
in km

EF155
EF155A

1959
1960

2 x Pirna 014A1

24,50

23,00

68,5

17000
20000

36-48

650

1500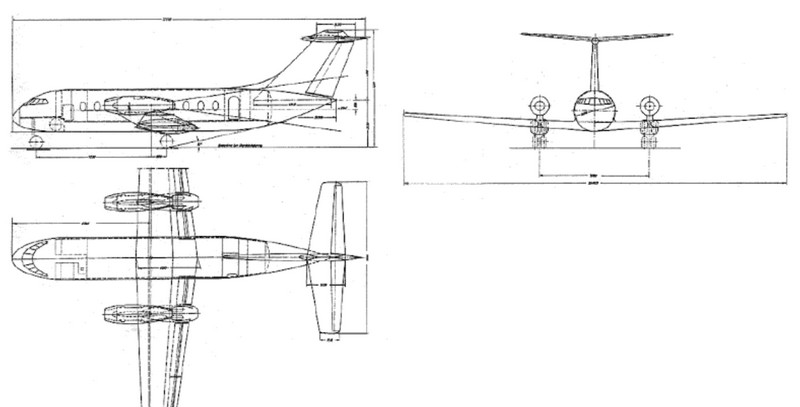 Weblinks:
Literature:
Reinhard Müller
Brunolf Baade und die Luftfahrtindustrie der DDR
Sutton Verlag, 2013, ISBN 9783954001927
Read at Google Books
introduced Aug 2017
http://hugojunkers.bplaced.net/
contents last updated 24.08.2017