Europa Union KG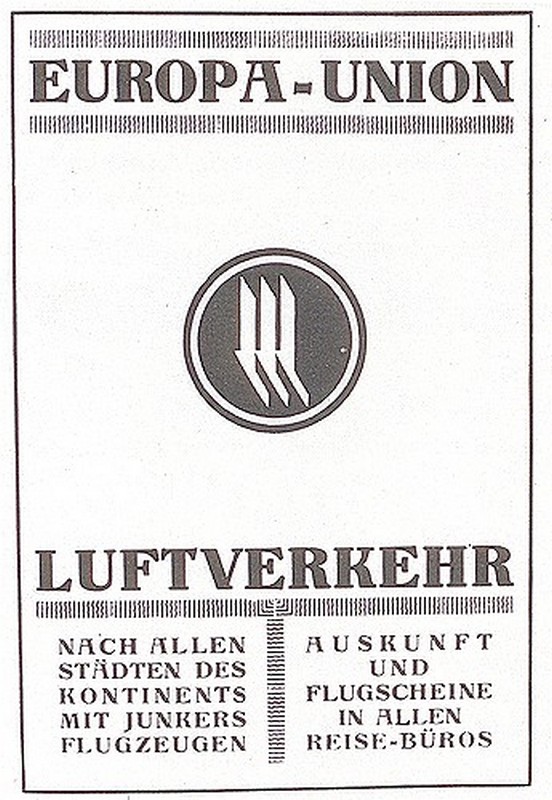 Founded:
07.05.1925 at Dresden


Shareholders:
Shareholders of member airlines (see below)
Junkers Flugzeugwerke A.G.
City of Dresden
City of Leipzig

Members:
Ad Astra Aero
OELAG
Rumpler Luftverkehrs A.G.
Bayerischer Luft-Lloyd
Junkers Luftverkehrs A.G. Berlin
Saechsische Luftverkehrs A.G.
Suedwestdeutsche Luftverkehrs A.G.
Schlesische Luftverkehrs A.G.
Oberschlesische Luftverkehrs A.G.
Luftverkehr Ruhrgebiet A.G.
Badische Luftverkehrs GmbH
Bayerische Luftverkehrs A.G.
Westflug GmbH
Latvija Gaisa Satiksmes
A-S Aeronaut
Aero O/Y
A.B. Aerotransport
Dansk Lufttransport

associated members:
Nederlandsche Werekdverkeer Maatschappij
Air Express Co. Ltd. (since July 1925)

Management Positions:

Network:
Northern and Central European Network
Inner German Network

Company Development:
Europa Union was founded on 7th May 1925 during a setup meeting at Dresden. The participating airlines were members of the previous Transeuropa Union and the Nordeuropa Union as well as several airlines, which were already supported by Junkers Luftverkehr during their foundation. The idea of Europa Union was to merge the two large European networks in Northern and Central Europe as well as the Inner German network into one large European wide network. Flightplans between the previous separated unions should be harmonized and a common financial clearing procedure should be introduced between all partners of the Europa Union. Europa Union was founded as a Kommanditgesellschaft KG with 50.000 RM. The funds were raised up to 10 million RM on 7th September 1925.

The initial foundation members were the current members of Nordeuropa and Transeuropa Union plus Schlesische Luftverkehrs A.G, Oberschlesische Luftverkehrs A.G, Luftverkehr Ruhrgebiet A.G., Bayerische Luftverkehrs A.G., Badische Luftverkehrs GmbH and Westflug GmbH as new Junkers partners of 1925.

Discussions for further extensions to the South were on its way in 1925 in Italy, Spain and Portugal. The TOMTASCH joint venture with the Turkish Government also saw the development of a Turkish air transport system. Junkers Luftverkehr was even planning a link to this local network in 1925 via Greece.

The 1925 operations were already planned by TREU, when Europa Union was born. TREU also continued to plan the 1925/26 winter operations. But on 1st October 1925 the shareholders decided to dissolve the Transeuropa Union on 31st December 1925 after absorbing it into Europa Union.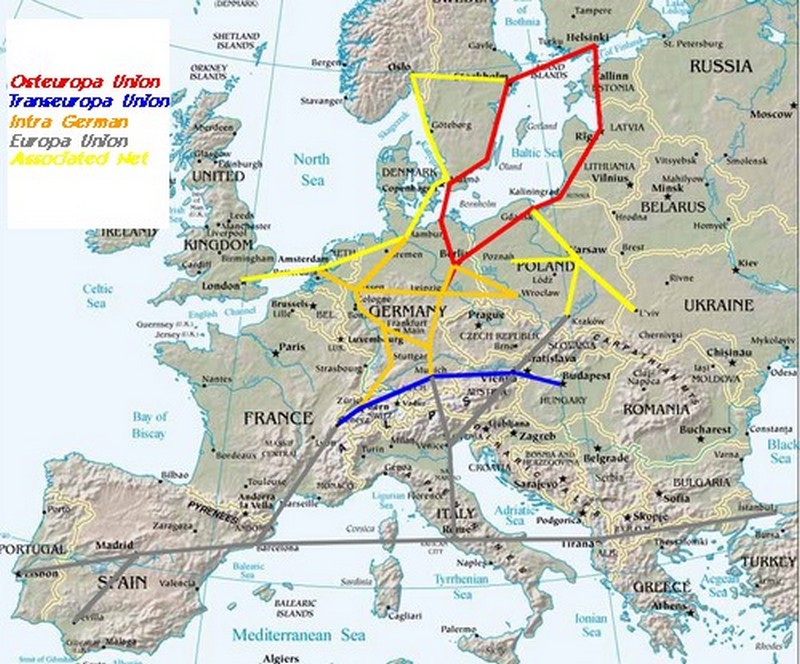 A major lack of the two independent unions was their missing integration. Both networks were more or less integrated at Berlin. But not only the flightplans did show little connectivity via Berlin, also there was no financial clearing between both unions for passengers, which travelled from one union to the other. There was also no utilization of aircraft or crews flown by the other union. Even there was no marketing of flights for the other union. This became really a problem with the extension of the inner German network in 1925. Initially Junkers tried to concentrate on the TREU network by adding all routes to the network, which entered Germany, i.e. the Malmo-Hamburg route was added to the TREU network even when Dansk Lufttransport was more integrated into the Nordeuropa Union. But finally Junkers decided to fully integrate both unions into one large union called the Europa Union, which was founded in May 1925. It was planned, that Transeuropa Union and Nordeuropa Union should transfer their operations into Europa Union during the second half of 1925. Due to the financial collapse of the Junkers Flugzeugwerke this transfer was not completed before Junkers Luftverkehr was integrated into Deutsche Luft Hansa A.G. in January 1926.
introduced Aug 1996, transfered Dec 2017
http://hugojunkers.bplaced.net/
contents last updated 7 Aug 2005