Junkers A50
see also: Junkers A50 Production List / Junkers A50 Survivor List
Sport Aircraft,, F/F 13 Feb 1929,
developed by Junkers Flugzeugwerke in Dessau by Arntzen, Pohlmann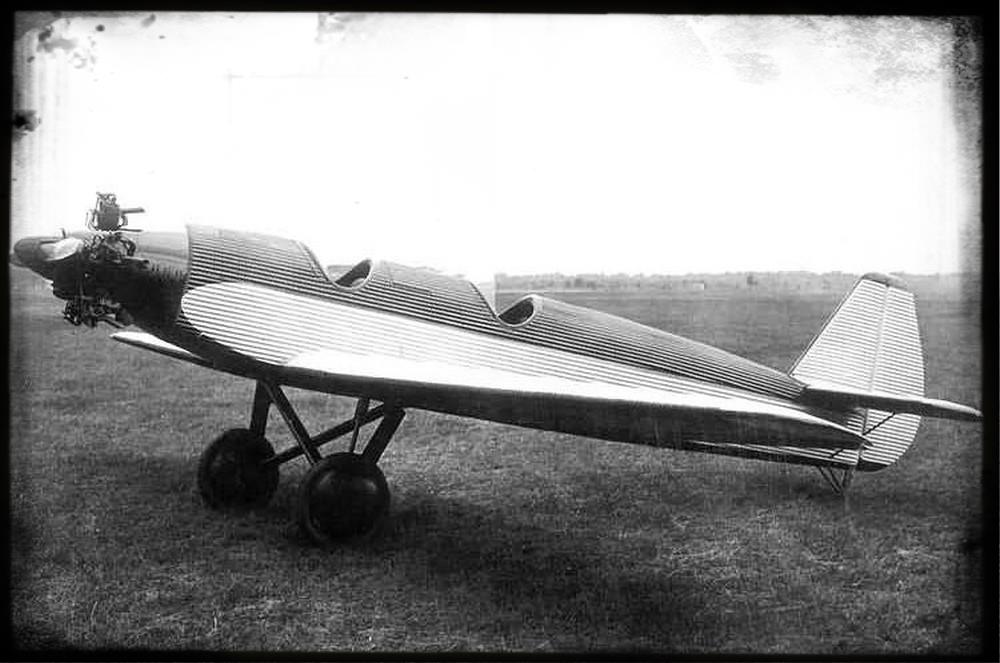 Junkers A50 Prototype
Historical Background:
The initial idea of the Junkers A50 Junior was born by Joh. Arntzen from the sales organisation of Junkers. Arntzen believed, that it would be possible to design an all-metal sport aircraft, which would be competitive in price with the classic wooden/textile aircraft types. Regarding the bad results of his sport aircraft designs of the early twenties, Hugo Junkers was sceptic about Arntzen's ideas, but finally he agreed and advised Pohlmann to review Arntzen's designs. The new aircraft should be capable for the typical training, sport and acrobatic flight missions, but also for private travelling of two persons including 30kg baggage for up to 5 hour journeys. With these characteristics Junkers laid down the fundamental ideas of todays General Aviation Traffic.

Pohlmann started the developement under the developement designator EF31. In autmun 1928 this designator was changed to J50/A50. In February 1929 the first flight of the A50 was performed, probably by Arntzen himself. At least five prototypes were built at Dessau for engine trials during 1929. The training aircraft is finally equipped with a Walter NZ, while the travelling aircraft got th A.S. Genet.

Meanwhile the sales organisation of Junkers Flugzeugwerke was thinking about a marketing strategy for the A50. For reaching larger numbers of potential buyers it was decided to sell the aircraft via automobile shops. To promote the aircraft, several record setting flights were performed by the A50 in June 1930 (see below). Several remarkable long range flights were performed with the A50 during the second half of 1930. In August 1930 an A50 is ferried to Japan within ten days. This aircraft was equipped with additional tanks and it was capable to perform nonstop flights over a distance of 1500km. Marga v. Etzdorf, a famous German female pilot, flew with an A50 from Germany to Teneriffe in Nov. 1930 and in August 1931 she performed a flight from Berlin to Tokyo. In May 1932 a longrange flight from Helsingfors to Capetown and back to Dessau was performed with an A50 by the Finish pilot Bremer. A total of 30000km was flown within 232 flight hours.

These flights offered a good reputition for the A50. The aircraft was sold to Finland, Switzerland, Australia, South Africa, Brasil, Portugal and Japan. Nevertheless, the optimistical assumptions of 6000 aircraft, which could be sold worldwide, were not achieved. A total of 69 Junkers A50 were built.

Junkers himself used the A50 as an experimental aircraft as well. The light oil engine Junkers David and the larger oil engine Junkers Franz were first tested on the A50. A single A50 was built with a high mounted wing and one A50 was built with a single center wheel and stabilizers below the wing, which was also intended for the Junkers Ju60 for a while.

Record Flights of the A50
04.06.1930 Altitude Record
The first A50 record was achieved by Junkers pilot Zimmermann and Schinzinger
on 4th June 1930. They reached an altitude of 4614 meters.
On the same day Zimmermann alone finally reached 5662 meters.
Both were new FAI records.
06.06.1930 Permanent Flight Record
On June, 6th 1930 Junkers pilot Grundke set a new FAI record
for a permanent flight with the A50. He kept the A50 with one passenger
for a total flying time of 8hrs and 25 minutes in the air.
A distance of 900km was flown with about 164,3 km/h.
In a solo flight on June 13th 1930 Grundke reached a flying time of 16hrs and 29 minutes
Grundke reached an average speed of 165,44km/h during that flight.
16.06.96 Distance Flight Record
During a solo flight Grundke reached a distance of 2100km
in one single flight, which was also a new FAI record.

Technical Data:
Aircraft

year
engine
length
in m
span
in m
wing area
im sqm
net weight
in kg
payload
in kg
seats
speed
in km/h
range
in km

J50
A50
A50ba
A50be
A50ce
A50ci
A50ge

n.a.
1929
n.a.
1929
1930
1932
n.a.

Junkers David (47kW)Anzani (37kW)
Walter Vega (59kW)
AS Genet (65kW)
AS Genet II (65kW)
Siemens Sh13a (65kW)
AS Genet II (65kW)

n.a.
7,12
7,12
7,12
7,12
7,12
7,12

n.a.
10,00
10,00
10,00
10,00
10,00
10,00

n.a.
13,70
13,70
13,70
13,70
13,70
13,70

300
t/o
350
n.a.
410
420
350

250
550
250
n.a.
240
230
130

1 pilot + 1 pass.

n.a.
n.a.
170
n.a.
165
165
170

n.a.
n.a.
n.a.
n.a.
550
500
350

A50 Junior Subtypes:

J50, prototype with Anzani engine, unswepted wings
A50ba with Walter NZ engine, one built
A50be with Amstrong Genet, original 1929 series
A50ce with Genet II, retractable wings, since 1930
A50ci with Siemens Sh13a, serial standard since 1932
A50ge with Genet II, several modifications on fuselage

Weblinks:
Literature:
Fischer von Poturzyn
Afrika von oben
Union Verlag, Berlin, 1935
Angelika Hoffmann
Die Junkers A50 - das Auto der Lüfte?
in: Trans Luft- und Raumfahrt No. 1, Transpress Verlag

introduced Jul 1996, transfered Jul 2017
http://hugojunkers.bplaced.net/
contents last updated 2 Mar 2003