Junkers J40
Large Scale Flight Boat , not built
developed by Junkers Flugzeugwerke in Dessau
Historical Background:
The J40 design was a parallel developement to the Junkers G38 passenger airliner. Since 1926 several designs for a giant seaplane were under research at Junkers Flugzeugwerke as an alternate approach to the Junkers G38 landplane studies.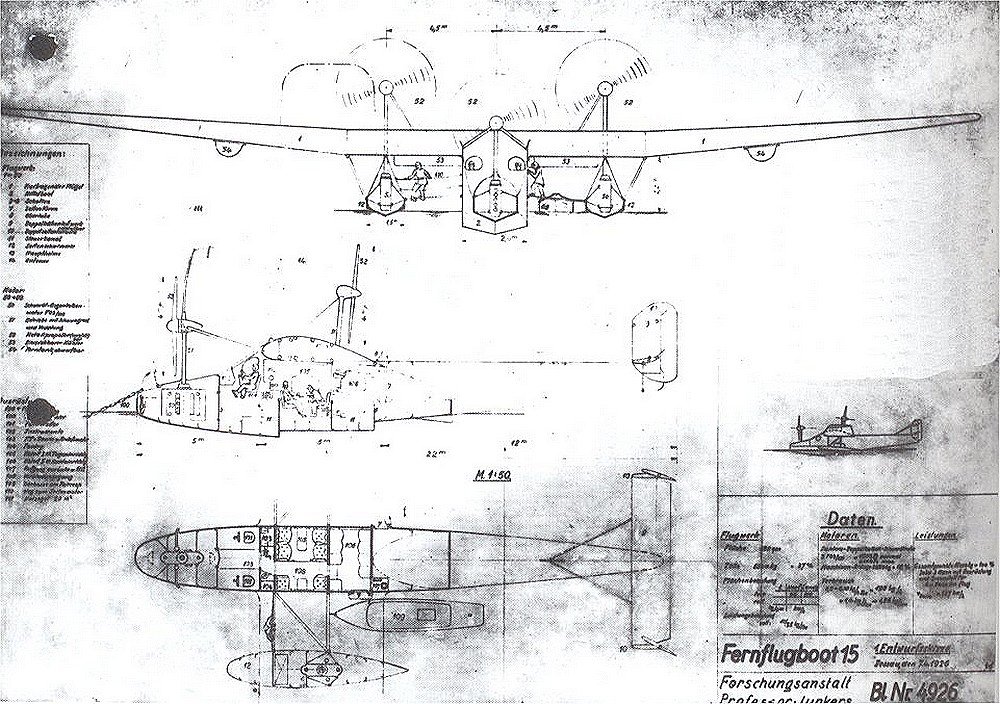 Flying Boat Design No. 15 of 1926

An early design of 1926 is known as Postflugboot Design Nr. 15, which was a flying boat approach with two swimmers. When the G38 became more concrete, an intermediate idea of Junkers was to take the standard G38 fuselage and put it on swimmers. This swimmer design was actually called J40. However, the Junkers design office had doubt, that such a large aircraft could be put on swimmers. Therefore in 1928 the seaplane design returned to boat layout again, picking up the Junkerissime double fuselage layout.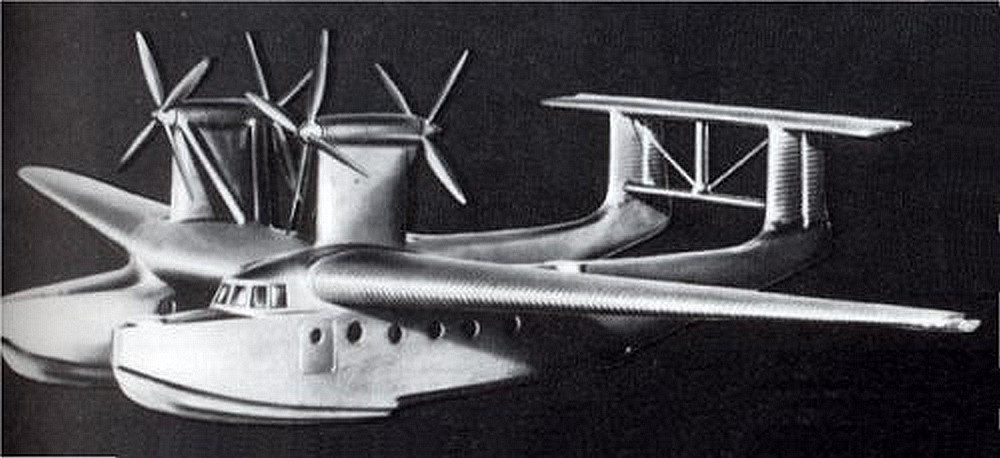 Double Fuselage Flying Boat of 1928

At this stage of design a decision was made, that Junkers should be supported by the German government for his giant landplane design G38, while Dornier was selected for the giant seaplane developement of the Do X. The German Navy still showed interest in the J40 flying boat design. Experiences from the Do X and Rohrbach Romar showed, that large scale seaplanes at the end of the twenties had not sufficent ranges to cross the Atlantic Ocean due to their heavy weight. Therefore the Reichsverkehrsministerium and Lufthansa decided to stop any activities upon large scale flying boats and turned over to smaller swimmer boats as the later BV139. The further developements of the J40 flying boat therefore also came to an end in 1930.
Aircraft

year

engine

length
in m

span
in m

wing area
im sqm

net weight
in kg

payload
in kg

seats

speed
in km/h

range
in km

G38
J40
Flying Boat 15
Double Fuselage Flying Boat

1929
1928
1926
1928

2 x L8 (294kW) + 2 x L88/55 (588kW)
as above
3 x Fo3
2 x L88

21,45
21,40
22,00


44,00
44,00
40,00


290,00
280,00
190,00


14910
13000
n.a.
12000

6325
7000
n.a.


5+13
5+
14


190
210
n.a.


1950
2300
n.a.
Weblinks:
Literature:

introduced Jul 1996, transfered Jun 2017
http://hugojunkers.bplaced.net/
contents last updated 26 Jan 2003