Baade 152 Survivors
Baade 152, WNr. 152/II-011
Verkehrsmuseum Dresden / Dresden Airport
The fuselage of WNr. 152/II-011 was already finished, when the 152 Programme was stopped. The fuselage was transfered to the NVA Air Force Base at Rothenburg later, where it was used as a storage cabin. Since 1984 the fuselage was unused.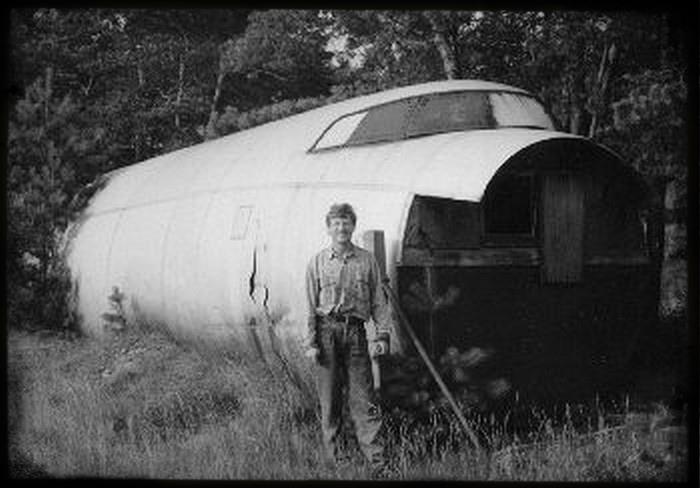 Baade 152/II-011 Fuselage at Rothenburg in 1990 (Skybird-ev.de)
In January 1993 the Verkehrsmuseum Dresden took over the ownership of the fuselage for restoration. Initial preservation work was done at Aerotec in Rothenburg and in August 1995 it was transfered from Rothenburg to the Elbe Flugzeugwerke in Dresden, where the fuselage was restaurated in Hangar 222, where the 152s were built in the 50s, until 2001.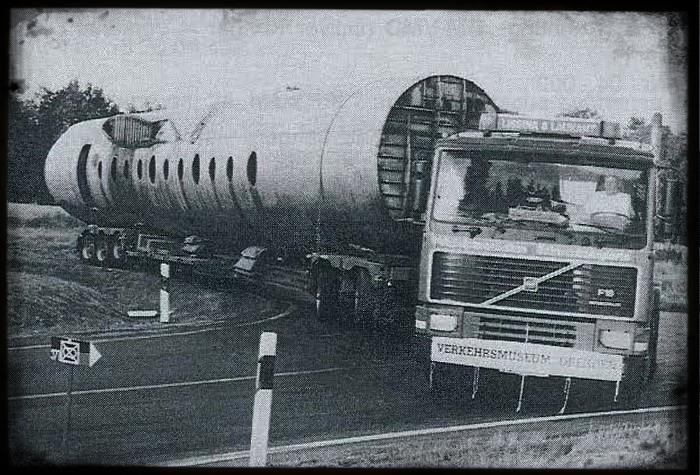 Transport of Baade 152/II-011 Fuselage from Rothenburg to Dresden 1994 (Verkehrsmuseum Dresden)
Meanwhile the fuselage is stored in a side wing of the new Dresden Airport. It is not on permanent Display, but can only be visited during Special Events.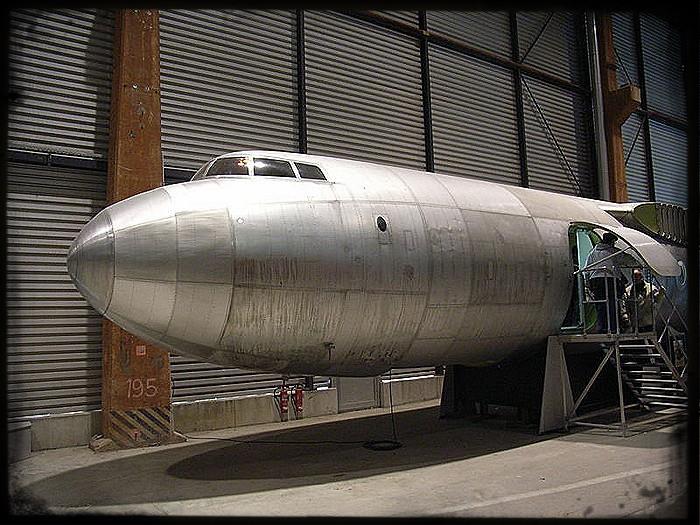 Baade 152/II-011 in Hall 222 at Dresden Airport (Wikimedia.org, Kolossos)

Baade 152/II-011 Manufacturer Plate
(Luftfahrtmuseum-Rothenburg.de)
Baade 152, various WNr.
Verkehrsmuseum Dresden
The Verkehrsmuseum Dresden has various Baade 152 aircraft parts in ist storage or on Display, which came from different aircraft.
Baade 152, WNr. 152/II-0?? Main Landing Gear, on Display
Baade 152, WNr. 152/II-V4, Ejection Seat, on Display
Baade 152, WNr. 152/II-V6, Cargo Door
Baade 152, WNr. 152/II-011. Cockpit
Baade 152, WNr. 152/II-008
Blue Pitot Bar, Dresden Leipziger Str.
Some parts of the WNr 152/II-08 are exhibited at the Flyer's Bar "Blue Pitot" in Dresden. These are a cabin window and a spant 14 of the aircraft.
Baade 152-V1 Crashsite Memorial
Ottendorf-Okrilla
In 2009 a Memorial Stone was erected at the crashsite of the Baade 152-V1 in Ottendorf-Okrilla. It is located at the Corner of Schutterwälder and Geldroper Street.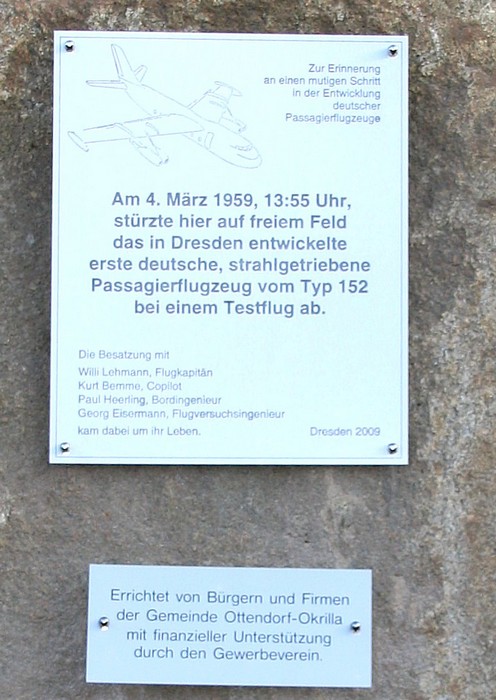 introduced Aug 2017
http://hugojunkers.bplaced.net/
contents last updated 23.08.2017