Junkers Ju87
see also:
Junkers Ju87 Production List
/
Junkers Ju87 Survivor List
/
Junkers Ju87 Philatelic Items
/
Junkers Ju87 Model Kits
dive bomber aircraft, F/F: 17.09.1935
cantilever monoplane, smooth metal, designed by
Pohlmann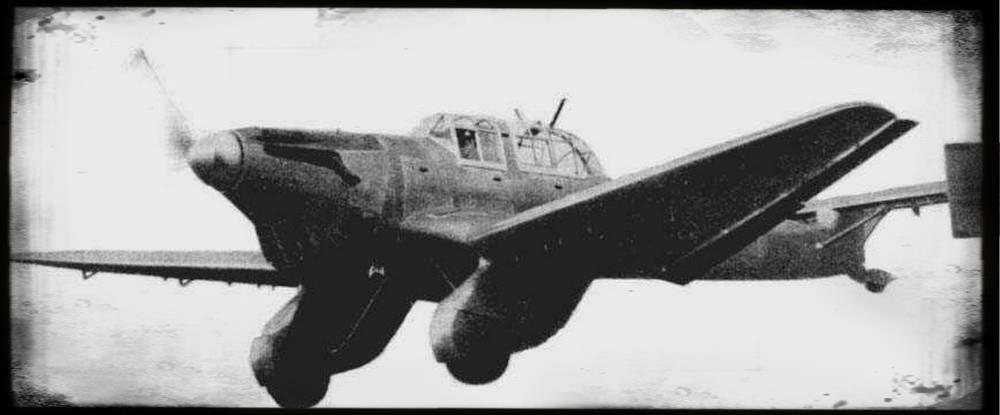 Junkers Ju87 Prototype
The development of a dive bomber for Luftwaffe was strongly influenced by Ernst Udet. Already in 1931 Udet flew the U.S. Curtiss F6 dive bomber and he became interested in using this aircraft for his flight shows. In 1933 Udet bought two of these dive bombers with the support of the newly formed Nazi Government. These two aircraft were tested by Udet at Rechlin in 1934. While Wolfram von Richthofen, the brother of WW I Fighter Ace Manfred von Richthofen and the development manager of the Reichsluftfahrtministry, was not convinced by the utilization of dive bombers, Udet gained the support of Goering and in 1935 two requests for proposals were send to the German Aviation Industry:

a single-seated light dive bomber

resulting designs:
Fiesler Fi 98 with a BMW132A
Henschel HS123 with BMW123A (winner of the competition)
Hamburger Flugzeugbau Ha137 with Jumo 210C
Heinkel He50 with SAM 22B

a double-seated heavy dive bomber

resulting designs:
Arado Ar81 with Jumo 210C
Heinkel He118 with DB600
Junkers Ju87 with Jumo 210C

The original Ju87 design was already started by Pohlmann in early 1934 due to an early Luftwaffe request for a successor of the older Heinkel He50 dive bomber. A lot of experiences of dive bomber techniques were transfered from the K47 design and in early 1935 the design was finally adapted to the new Luftwaffe proposal for the heavy dive bomber. The prototype Ju87V1 (c/n 4921) flew first on September, 17th 1935 with Willi Neuenhofen. This aircraft was equipped with a 385kW Rolls Royce Krestel engine as the Jumo 210 was not available at the time of the first flight. The prototype also was equipped with a twin tail unit. On January 24th 1936 Neuenhofen crashed with the prototype during dive experiments. Neuenhofen and a developement engineer were killed during that crash.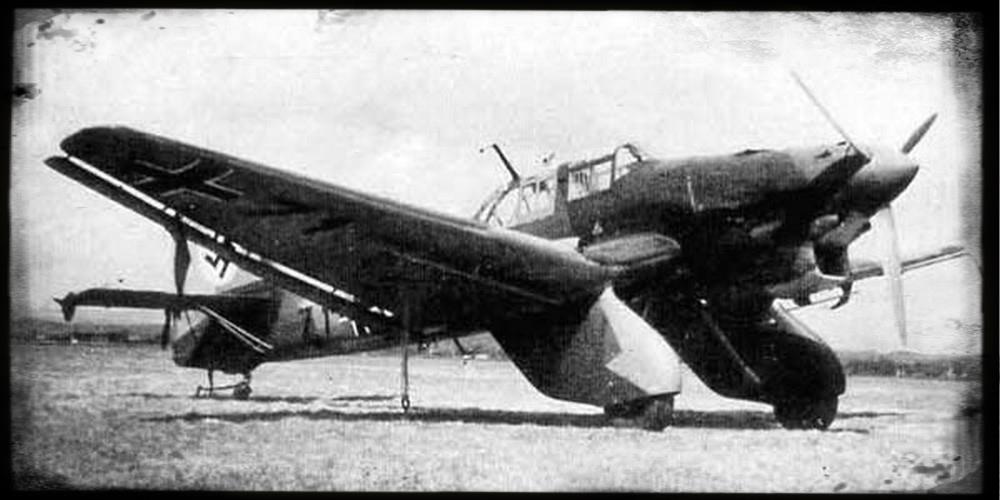 Junkers Ju87-A2

One month later the second prototype V2 became available. The tail unit, which failed on V1 during dive, was changed to that of the K47 on the V2. The V2 is also already equipped with the final Jumo 210. The further flight tests of the Ju87 were performed by

Hesselbach. A further two prototypes V3 and V4 were built during 1936 Between May and July 1936 the three competiting aircraft were tested at Rechlin by Udet himself. While the Ar81 was withdrawn from the selection due to its instable tail unit, Udet favorised the Heinkel He118. But during a test flight, Udet crashed with the Heinkel He118V1 at Marienehe on July 27th 1936 and therefore finally decided for the Junkers Ju87 design. A total of 10 initial preseries Ju87A0s were built during the second half of 1936 and in 1937 the Ju87A1 production series was launched. In late 1937 three of this initial Ju87A1 were sent to Legion Condor in Spain for tests under wartime conditions. The results of these three Ju87s convinced the leaders of Luftwaffe.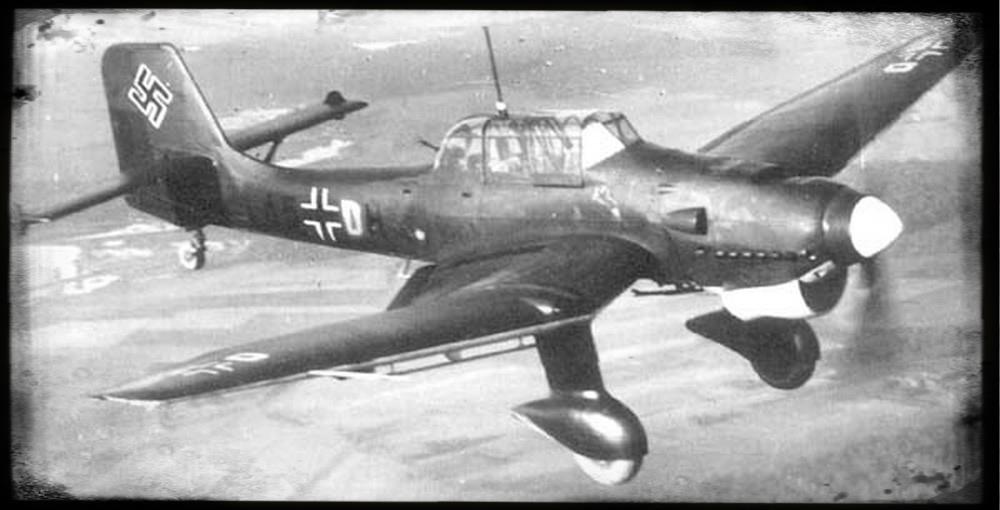 Junkers Ju87-B1

In 1938 a further improved Ju87B went into production. This version was equipped with the Jumo 211Da and it got a modified wing and fuselage outlook. Special versions of the B2 were developed for different kinds of tasks. The Ju87B2U2 got a strengthened armor against ground fire, while the Ju87B2U4 had skies for snow landings at the Eastern front. Special versions for missions in tropical regions were available as Ju87B2trop and the Ju87R was a long range version with additional tanks for attacks of sea targets. Nevertheless, it seems as if these sea versions were not built.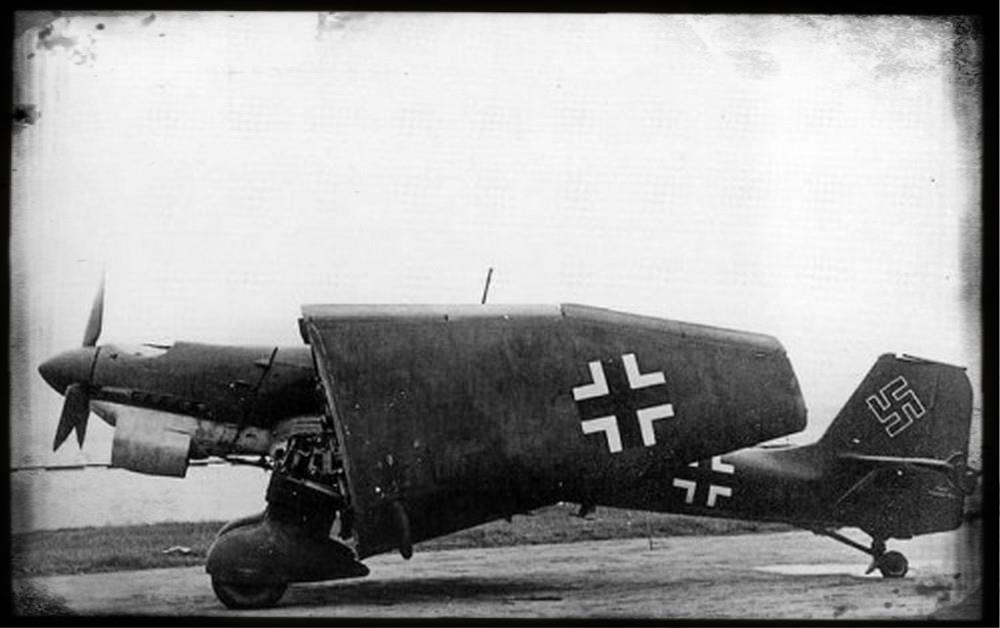 Junkers Ju87-C1

Another subtype of the Ju87B was the Ju87C, which was originally a B2 with retractable wings for use on board of Germany's sole aircraft carrier Graf Zeppelin. A few Ju87C were built, but when the Graf Zeppelin project was later abondened, these Ju87C were rebuilt as Ju87B2s. The Ju87B was the backbone of Germany's dive bomber force at the beginning of WWII. It was built until 1942.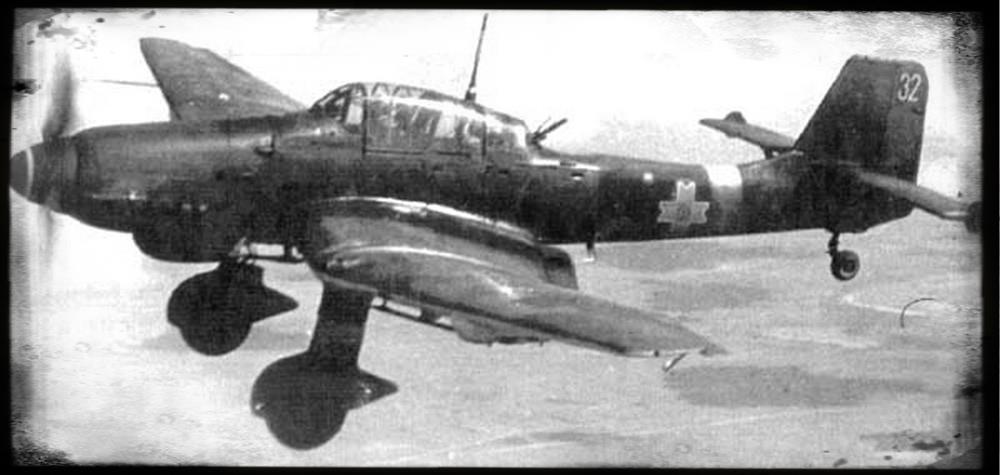 Junkers Ju87-D3 (Romania)

As the experiences of the Battle of England in 1940 had shown, the Ju87B2 was to slow and it was an easy to hit target. In 1940 a complete redesign of the Ju87 was performed. The Ju87D got a new aerodynamic fuselage and cockpit roof and the main gear was redesigned. The Ju87D was also equipped with the stronger Jumo 211J engine. This aircraft was better armored than the B2 and it was able to take up more g-force. This made the Ju87 capable for a new kind of mission as a battle aircraft. The Ju87D was delivered to the front units in 1942 and became the Ju87 subtype of which most Ju87 were built. While the first D-series were still designed as dive bombers, the later versions were more and more redesigned as battle aircraft with stronger armours and heavier bomb loads.

Further improvements were made on the Ju87F in 1941, which got a strengthened undercarriage and an enlarged unfolded wing as well as the more powerfull

Jumo 213-A1. Nevertheless the RLM was not interested in that version.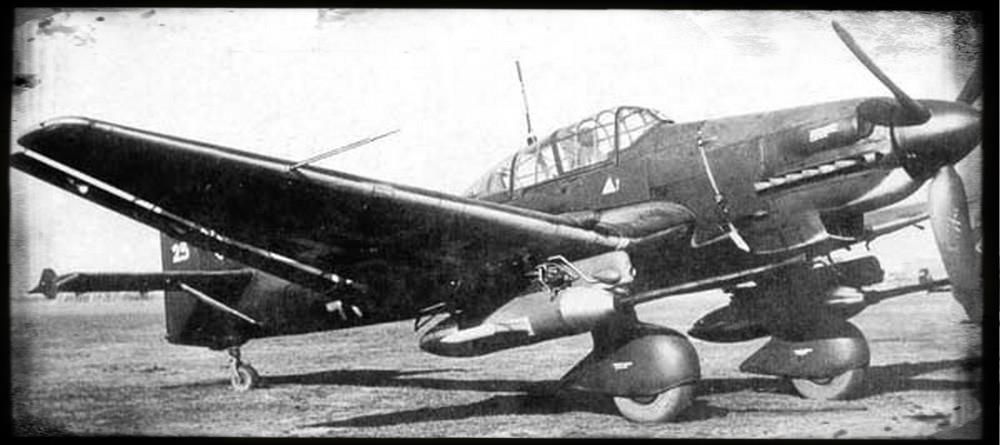 Junkers Ju87-G1
Finally some Ju87Ds were converted to a new Ju87G standard, which were used for tank attacks. They were equipped with two BK37 Flak guns. As the G-Version was no longer used as a dive bomber, the Ju87-G did not have any dive brakes. The G1-Series were converted from Ju87-D3, while the G2-Series modified from the longer D5-Series.

The Ju87H was also converted from the Ju87D standard. They were used for blind flying trainings. In 1944 the last Ju87 were built before the production was stopped.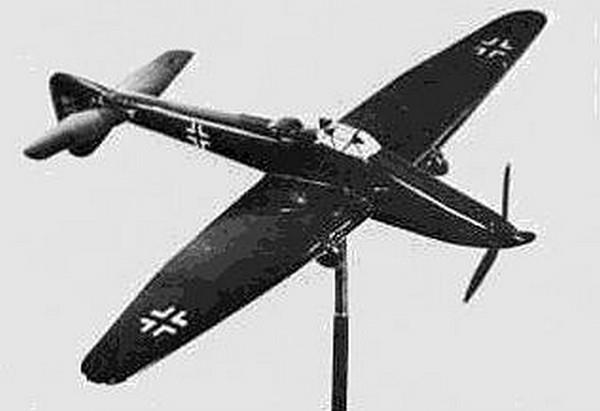 Junkers Ju187 Model

As the Ju87 was not strong and powerfull enough for the new demands of air war, Junkers started a complete new design of the Ju87 in 1942. The Ju 187 got a new wing and tail unit as well as an retractable undercarriage. This Ju187 should became about 100km/hrs faster than the older Ju87, while it was able to take onboard additional 2000kg military payload. But like the Ju87F, also the Ju187 project was stopped by RLM in 1943 and none was built.

Some Ju87s were also built for current countries. In 1937 two Ju87K1 were delivered to Japan. These were converted Ju87A1s. In 1940 another two Ju87B2 were delivered to Hungary as Ju87K2. Additional four Ju87A1 were also taken over by the Hungarian air force in 1942. The license production of 26 Ju87B2 was planned at the facilities of Manfred Weiss, Budapest, but later stopped. A total of 12 Ju87R2 were planned for delivery to Bulgaria in 1941 as Ju87K3, but finally these aircraft went to Luftwaffe. During WWII some Luftwaffe Ju87s were transfered to air forces in Bulgaria, Italy, Croatia, Romania, Slovakia and Hungary. The final Ju87 utilization took place in Czechoslovakia after WWII. The Czech Air Force had taken over some Ju87D5s after the end of the war and used them as B37s for some years.

While the first Ju87 serial aircraft were built at Dessau, Junkers Flugzeugwerke were asked to increase the monthly output of this aircraft by the RLM. In 1937 it became obvious, that the existing facilities at Dessau would not be able to fullfill this request, when the Ju88 serial production would start. Therefore the serial production of the Ju87 was transfered to Weserflug GmbH at Bremen and Lemwerder in December 1937. Since 1942 the Ju87 production of the Weserflug GmbH was transfered to Berlin-Tempelhof, where the new airport building was used as the production hangar. A total of 6513 Ju87 were built between 1936 and August 1944. Just 583 of these were built at Junkers Flugzeugwerke at Dessau.

Technical Data:

Aircraft

year
engine
length
in m
span
in m
wing area
im sqm
net weight
in kg
payload
in kg
seats
speed
in km/h
range
in km

Ju87A
Ju87B
Ju87C
Ju87D
Ju87F
Ju87G
Ju87R

Ju187

1936
1938
1938
1939
1941
n.a.
n.a.

1942

Jumo210D (530kW)
Jumo 211D (880kW)
Jumo 211J (1043kW)
Jumo 213A (1285kW)
Jumo 211J (1043kW)
Jumo 211J (1043kW)
n.a.

n.a.

10,80
11,50
n.a.
11,50
n.a.
11,50
n.a.

n.a.

13,80
13,80
n.a.
13,80*)
n.a.
13,80
n.a.

n.a.

31,90
31,90
n.a.
31,90
n.a.
31,90
n.a.

n.a.

2315
2760
n.a.
3900
n.a.
3455
n.a.

n.a.

1085
1540
n.a.
2560
n.a.
2150
n.a.

n.a.

2

310
340
n.a.
350
n.a.
320
n.a.

400

n.a.
850
n.a.
800
n.a.
1210
1255

n.a.
*) D-version also with 15 meters span.


Subtype Description:

Ju87A0, Jumo 210Ca (470kW), 10 preseries aircraft built in 1936
Ju87A1, Jumo 210D (530kW), serial production since 1937
Ju87A2, Jumo 210Da (530kW), serial production line in 1938, about 200 built
Ju87B0, Jumo 211A1 (735kW), preseries built by Weserflug at Tempelhof in 1938, 10 built
Ju87B1, Jumo 211Da (880kW), new fuselage and wing, 952 built in 1937/1938
Ju87B2, Jumo 211Da built by Weserflug since 1939 slightly modified B1. Ju87B2Trop for tropical regions
Ju87B2U2, strengthened armor
Ju87B2U4, with skies for Eastern front
Ju87C, air carrier version for Graf Zeppelin with retractable wings, 5 built in 1938, B2-standard
Ju87D, Jumo 211J-1 (1043kW) with complete aerodynamical redesign
Ju87D1, front replacement of B2 since 1942 with larger wing and stronger undercarriage
Ju87D2, as D1 with stronger weapons, projected only
Ju87D3, with stronger armor
Ju87D4, torpedo aircraft, similar to D3
Ju87D5, increased span (15 meters), modified undercarriage and dive brake
Ju87D7, as D1 with longer span (15 meters) for night missions
Ju87D8, as D3 with longer span (15meters) and stronger weapons
Ju87F, Jumo 213, projected in 1941 with larger span, stronger undercarriage and Jumo 213, not built
Ju87G1, Jumo 211J1, tank attack aircraft, rebuilt from D3
Ju87G2, combat and tank attack aircraft, rebuilt from D5
Ju87H, training aircraft, rebuilt from D series (H1 to H8 rebuilt from D1 to D8)
Ju87K1, export version for Japan, 2 built in 1937, similar to A1
Ju87K2, export version for Hungary, 2 built in 1940 from B2, licence production at Weiss in Budapest
Ju87K3, export version for Bulgaria, 12 built in 1941 from R1
Ju87K4, export version for Hungary, 4 built in 1942 from A1
Ju87R, long range version with additional fuel tanks, based on B2
Ju87T, torpedo aircraft, projected only
Ju187, complete redesign with retractable undercarriage, Jumo 213 of 1942

B37, designator used after WWII by Czechoslovakian Airforce for ex Ju87D


Weblinks:
Airwar.ru - Ju87A Story, Data, Photos
Airwar.ru

- Ju87B Story, Data, Photos


Airwar.ru - Ju87C Story, Data, Photos
Airwar.ru - Ju87D Story, Data, Photos
Airwar.ru - Ju87G Story, Data, Photos
Airwar.ru - Ju87H Story, Data, Photos
Airwar.ru - Ju87R Story, Data, Photos
Wikipedia.org - Ju87 General Story, Photos
FighterPlanes.com - Ju87 Overview
Warbirdsresourcegroup.org - Ju87 Story, Photos
Aircraftnut.blogspot.de - Ju87 in foreign Service
WW2-Weapons.com - Ju87 Story, Photos
Youtube.com - Stukas - eine Legende (Documentary)
Youtube.com - Wings of the Luftwaffe: Ju87 Stuka

Literature:
Peter Smith
The Junkers Ju87 Stuka
Crowood Press, 1998, ISBN 1861261772
Peter Smith
Stuka: Die Geschichte der Junkers Ju87
Motorbuch Verlag, 1973, ISBN 3-87943-291-0
H. Erfurth
Vom Original zum Modell: Junkers Ju87
Bernard + Graefe Verlag, 1998, ISBN 3-7637-6017
M. Griehl
Junkers Ju87 Stuka und Schlachtflugzeug
Motorbuch Verlag, 1998, ISBN 3-613-01897-7
M. Griehl
Junkers Ju87 Stuka
Airlife Publishing, 2001, ISBN 1840371986
Dressel / Griehl
Junkers Ju87A
Schiffer Publishing, 1997, ISBN 887409202
John Weal
Junkers Ju87 in North Africa
Osprey Publications, ISBN 1855327228
John Weal
Junkers Ju87 Stukageschwader 1937-1941
Osprey Publications, 1997, ISBN 1855326361
Junkers Flugzeug und Motorenwerke
Ju87 B2 Betriebsanleitung
Dessau, Juni 1940, PDF Download here
introduced Jul 1996, transfered Aug 2017
http://hugojunkers.bplaced.net/
contents last updated 21 Apr 2003