Junkers Luftverkehr Russland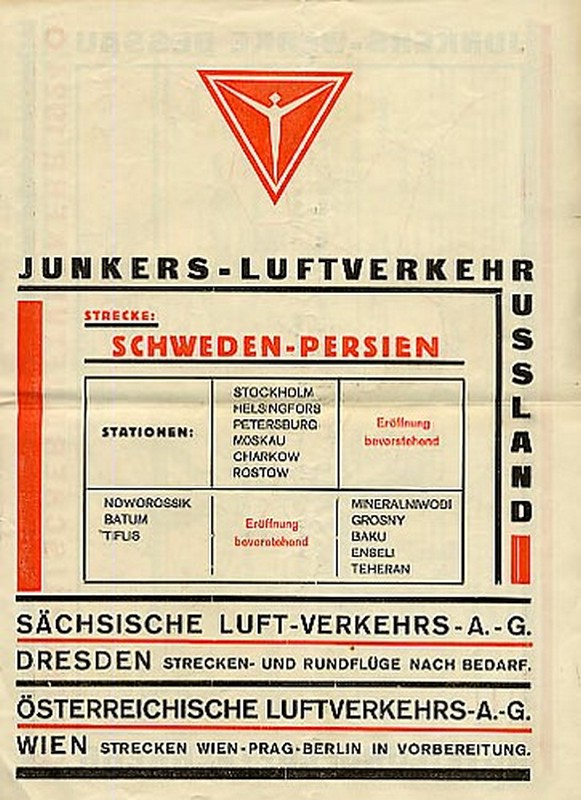 Europa Union / Junkers Luftverkehr Russland Poster of 1923

Founded:
06.02.1922 Junkers Soviet Cooperation Contract (Fili)
01.08.1922 Start of regular flight operations in Russia

Shareholders:
Junkers Flugzeugwerke A.G.
Soviet Government

Management Positions:
Franz Kiessner (head of Moscow office)

Network:
Moscow to Nizhnii Novgorod (01.08.-25.09.22)
Moscow to Tiflis (31.05.-01.10.23)

Company Development:

At the same time, when the Junkers engagement in Poland started, he was also in discussion with the Russian government about the establishment of a Junkers air traffic in the new Soviet Union. On February, 6th 1922 Junkers and the Soviets signed an extensive contract about a cooperation in the field of aircraft design as well as in the field of air transport in Russia. One effect of this contract was the foundation of the Junkers facilities at Fili, the other effect was the inaugeration of Junkers air traffic operations in Russia, known as Junkers Luftverkehr Russia.

When signing the contract, Junkers was thinking of a route expansion of the Berlin-Konigsberg route to Moscow. But just a few month before, the Russians had signed a contract with Aero Union, one of the growing Junkers' competitors in German airtraffic about the foundation of Deruluft. The Russian government assigned exclusive rights to Deruluft for operations on the route from Konigsberg to Kaunas, Smolensk and Moscow and Deruluft operations were started in May 1922 by this company.

Due to this Deruluft concessions, it was not possible for Junkers to open an own route from Konigsberg to Moscow. Instead Junkers organised an initial route from Moscow to Nizhnii Novgorod during the trade fare period in 1922. On July 29th a test flight was performed on this route with a Junkers F13 and on August 1st, 1922 regular services were started. This initial routing was stopped, when the fare was over on September 25th, 1922. A total of 58 flights were performed and 228 passengers had been carried.

Meanwhile at Moscow, Junkers had opened a local office of Junkers Luftverkehr Russia, which was headed by Franz Kiessner. This office continued discussions with the Russian government and finally came to an agreement on November, 26th which offered exclusive rights to Junkers Luftverkehr Russia for a routing from Sweden thru Russia to Persia, which should be inaugerated in 1923. Junkers started with the exploration of a route South of Moscow to the Persian border. A first flight from Moscow to Tiflis was performed on May 31st, 1923 as mail flight, while a passenger flight was performed a day later. The routing led from Moscow to Orel, Kharkov and Rostov on Don. From Rostov the 2200km network was directed to Novorossiisk, Batum and from there to Tiflis. This route was operated twice a week and a single flight took two days including a night stop at Rostov. Due to operational difficulties on the route South of Rostov the routing was changed on July , 25th to Armavir, Mineralnye Vody, Vladikavkaz, Groznyi, Makhachkala, Baku and Jewlach to Tiflis. This extended the route up to 2700km. The Moscow-Tiflis route was operated until October 1st, 1923. A total of 1231 passengers were carried and about 3700 kg mail and freight.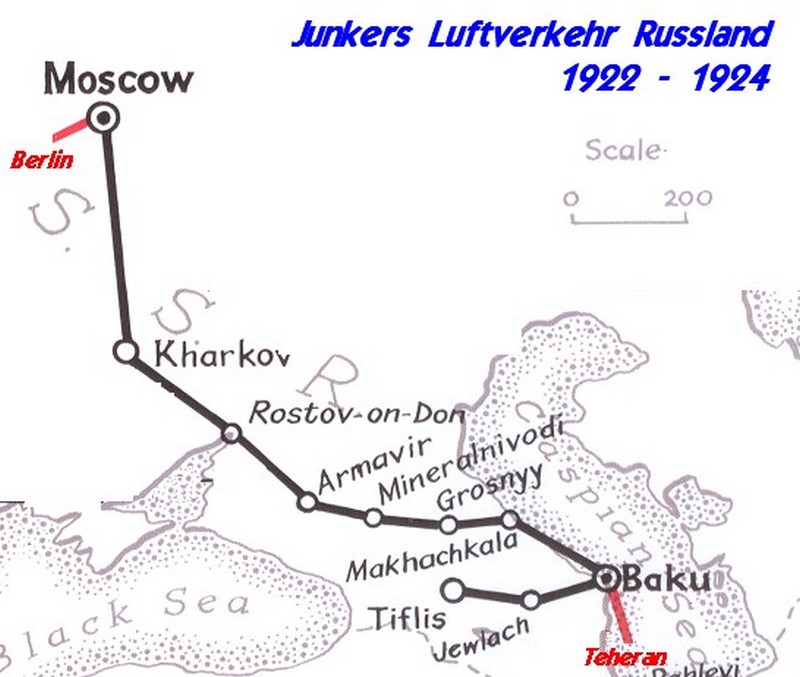 Junkers Luftverkehr Russland Routing of 1924
(from R.E.G. Davies: Lufthansa - an Airline and its Aircraft)

As the final routing should be connected to the Baltic route of Osteuropa Union, Junkers Luftverkehr Russia became also a member of this Union after the foundation in March 1923. Junkers Luftverkehr Russia planned to reopen the route on June, 15th 1924 again. But the permission of the Russian government was missed for this route, as well as for the new routing from Leningrad to Helsinki, which should connect to the Aero O/Y routing to Stockholm. Finally Junkers Luftverkehr Russia does only perform charter flights in 1924 for ODVF. A total of 934 unscheduled flights were performed during the whole year and about 3963 passengers were carried. The Junkers Luftverkehr route from Moscow to Baku was taken over by the newly formed Russian airline Ukrvozdukhput in 1925. The Junkers Luftverkehr Russia activities came to an end at the end of 1924. Some of the staff and aircraft went to Persia, where Junkers Luftverkehr Persia was born, others returned to Germany.
introduced Aug 1996, transfered Dec 2017
http://hugojunkers.bplaced.net/
contents last updated 28 Dec 2004