Baade (VEB Flugzeugbau) 156 / 157
Agricultural Aircraft of 1960/61, also known as "Flora" and SP-043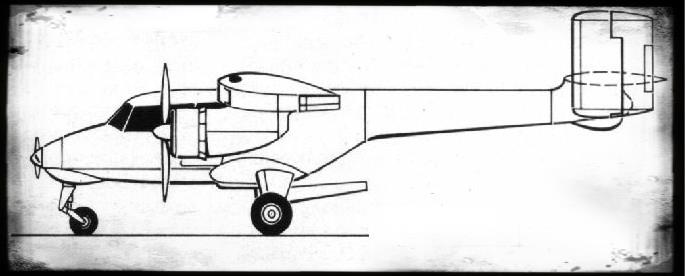 Baade 156 "Flora" (from Fliegerrevue 08/90)
The Baade 156 was agricultural aircraft, which was developed under the Name "Flora". The aircraft was designed for Transport Tasks of up to 1000kg as well as for spraying Services and fire fighting. The aircraft had a shoulder mounted wing and two AI-14R Piston engines mounted under the wing. The twin tail was mounted on a rear spar behind the cabin.
The Baade 157 was a further development of the 156 for Police Survey flights, for parachute flights, for ambulance Services or for Ultra short range passenger flights. The 157 got other engine mountings, tails and landing gears compared to the 156. Several studying Projects were set up for the different designs:
SP043 - Basic Agricultural Aircraft
SP043A - Passenger and Ambulance Aircraft, modified tail unit, lower landing gear, lenght: 13m, height 3,75m
SP044 - Passenger Aircraft, V-Tail, wing integrated engine
SP045 - Agricultural Aircraft, spraying aircraft
SP046 - Passenger Aircraft with larger fuselage and back door
SP048A - Passenger-, Ambulance and Parachute Aircraft
SP049 - Agricultural Aircraft as SP048A with double tails
SP049A - as SP049 for Passenger, Ambulance and Parachute missions, length 13,30m
SP050 - as SP049 Agricultural aircraft, tail from SP043, length 12,50m
The development was started in 1960 under the studying Project Designator SP-043, which was later transfered to the Baade 156/157 Designator. In February 1961 a mockup of the Baade 156 was finished. The development was stopped, when the GDR Government decided to Close the VEB Flugzeugbau in summer 1961.
Technical Data:
Aircraft

year
engine
length
in m
span
in m
wing area
im sqm
net weight
in kg
T/O weight
in kg
seats
speed
in km/h
range
in km

EF156
EF157

2 x AI-14R

12,90

17,30

43,00

1910

3000

2

170

600
Weblinks:
Literature:
Reinhard Müller
Brunolf Baade und die Luftfahrtindustrie der DDR
Sutton Verlag, 2013, ISBN 9783954001927
Read at Google Books
Fliegerrevue Extra
DDR Flugzeugindustrie - Aufstieg und Fall
Special Edition 1991
introduced Aug 2017
http://hugojunkers.bplaced.net/
contents last updated 24.08.2017