TOMTAS - Tayyare Otomobil ve Motor Türk Anonim Sirketi

TOMTAS Hangars at Kayseri
Junkers Lamella Hangar Constructions

In 1925 Junkers started discussion with the Turkish government about the foundation of initial Turkish airline operations. Experimental services were started during the same year. A maintenance station was under discussion at the city of Eskisehir near Bursa, but the Turkish Government also requested the built up of an aircraft factory, which was capable to built the required aircraft for the new airline, as well as for military aircraft for a future air force.

Like in Russia with the Fili Joint Venture, the German Government get involved in the discussion and supported the cooperation between Junkers and Turkey. On 15th August 1925 the TOMTAS - Tayyare Otomobil ve Motor Türk Anonim Sirketi (sometimes also called TOMTASCH) aircraft factory was founded. Shareholders were the Junkers Flugzeugwerke and the Turkish Aviation Society Turk Tayyare Cemiyeti - THK. A second facility for the aircraft construction was set up at the city of Kayseri, while at Eskisehir the maintenance facility remained. Junkers received 50% of the shares for supplying the necessary tooling and for the training of Turkish mechanics. He was responsible for the setup of the new facility until 1927. The annual capacity of the plant was set to 250 aircraft per year. Part of the TOMTAS plant was also an engine shop. On the other hand, the new company was the exclusive supplier of military aircraft for the Turkish Government. The contract was signed for a period of 40 years and should be terminated not earlier than 1965.

The TOMTAS production plant was located at Kaissarie (Kayseri). In 1925 Junkers started with the construction of four Junkers "Lamellenhangars" here. But only two were finished until 1927, when the Junkers engagement in Turkey came to an end. Hans Sachsenberg became the responsible Junkers manager at TOMTASCH in 1925.

As a result of the TOMTAS contract, Junkers delivered 20 Junkers A20 aircraft to Turkey in late 1925. These aircraft were civil versions and should be equipped with Madsen machine guns in Turkey. Since 1927 these aircraft were also maintained at Kaissarie.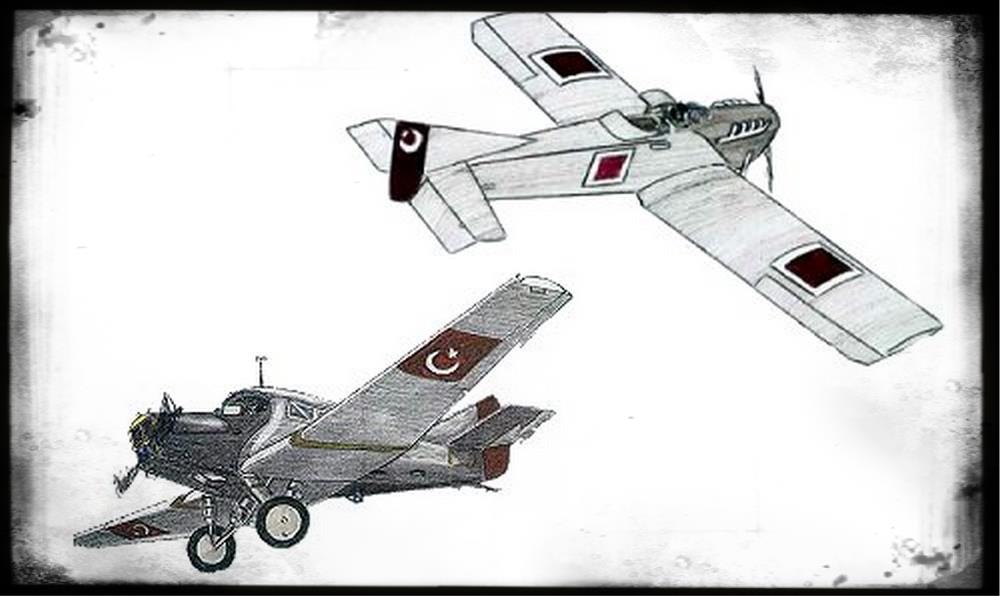 TOMTAS Junkers A20 and F13 in Turkish Air Force Livery
(I missed the source of these drawings, please let me know)
In 1927 the relation between Junkers and the Turkish government was frozen. The Turkish government's payment for TOMTAS were still pending and discussions about Junkers' capabilities within the field of military aircraft construction came up as well as about the performance of the Junkers A20 aircraft. On 28th May 1928 these discussions finally led to the cancellation of the TOMTAS contract and Junkers retreated from the Turkish scenery. Finally 45 Junkers A20 plus additional 3 Junkers F13 were delivered to the Turkish Air Force. The A20 was operated until 1931 and the three F13s were used until 1935.

The former TOMTAS facilities at Kayseri were taken over by the National Ministry of Defense and since 1932 it was used by the Kayseri Aircraft Factory. About 1000 employees produced aircraft from foreign countries under license agreements here until 1942. Still today Kayseri is one of the maintenance bases of the Turkish Air Force.

Ottoman and Turkish Aircraft (Turkish A20 Color Profiles)
Vecihi Hurkus (Turkish Text)
introduced Mar 2004, transfered Dec 2017
http://hugojunkers.bplaced.net/
contents last updated 14 Mar 2004