Junkers G31
see also: Junkers G31 Production List / Junkers G31 Philatelic Items
cantilever monoplane Passenger Airliner for 11 passengers , F/F 7 Sep 1926, 13 built
developed by Junkers Flugzeugwerke in Dessau by Zindel and Hofmann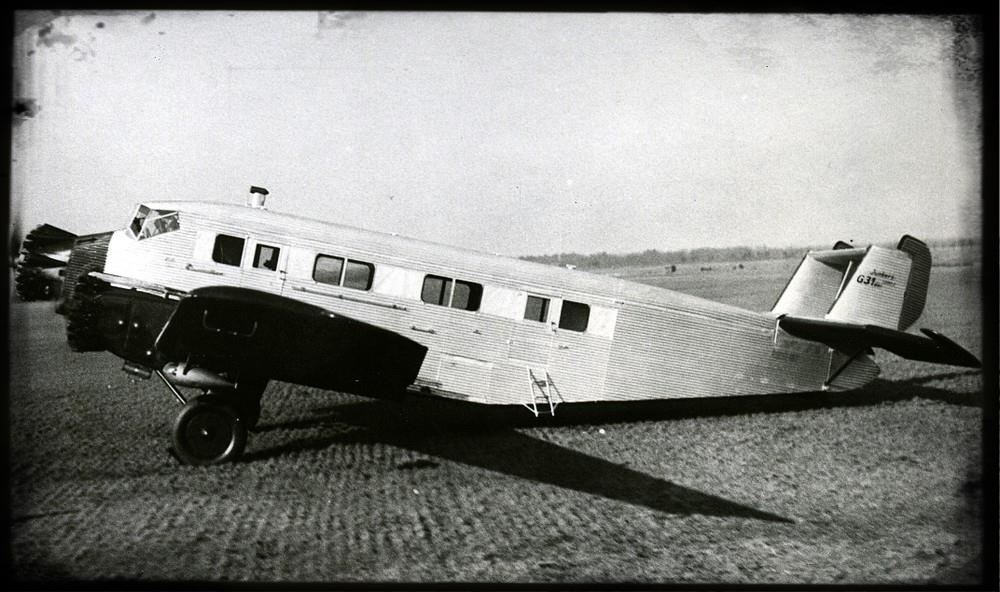 Historical Background:
When the Allied restrictions upon Germany's aircraft constructions had been lowered, Junkers designed an improved version of his G24 airliner aircraft, which would be capable enough for the increasing demand of Europe's air transport in the mid twenties. This improved version was designated G31. Compared to the G24 versions of 1924/1925 the G31 offered space for a total of 15 passengers plus 3 crew members. The cabin was wider than the G24 cabin and toilets and baggage compartements were added. A lot of passenger comfort features were added to the cabin, like an air condition, sleeping chairs and compartement seperations. On September, 7th 1926 the G31 was certicificated for air transport.

The G31 was not a commercial success. Just 13 aircraft were built between 1926 and 1931. One reason for this was the crash of Junkers Luftverkehr, which was absorbed into Luft Hansa in January 1926. Another reason was the continued developement of the Junkers G24, of which the G24he offered nearly the same performance data than the G31, but at 60% of its costs.

A total of 8 aircraft were delivered to Luft Hansa between 1926 and 1929. Most of them were converted to the improved G31fo standard in 1931. The G31 was used by Luft Hansa on its long range routes, its passenger night flight routes to Scandinavia and on its European Express routes. All routes, which were served by the G31 required an extensive passenger convenience. The G31 for the night flight operations to Scandinavia were equipped with sleeping chairs, giving these G31s the nickname "Flying Sleeping Car". In 1928 Luft Hansa integrated a small kitchen in some G31s and an inflight meal service was introduced, giving these G31s the nickname "Flying Dining Car". The G31 was used by Luft Hansa until 1935, when most of them were replaced by the larger Junkers Ju52. The remaining G31s were transfered to RLM and were later broken up. The G31 was also sold to Austria and four aircraft were sold to Australia as freighter aircraft in 1930.
Aircraft

year
engine
length
in m
span
in m
wing area
im sqm
net weight
in kg
payload
in kg
seats
speed
in km/h
range
in km

G31ba
G31ce, de, fe
G31fi
G31fo, fu,go
G31ho

1926
1928
1928
1929
n.a.

3 x L5 (230kW)
G&R Jupiter VI (308kW)
Siemens Jupiter (380kW)
BMW Hornet (400kW)
1 x P&W Hornet+2 BMW Hornet

16,50
16,50
17,28
17,28
16,50

29,65
29,65
30,30
30,30
29,65

94,60
94,60
102,00
102,00
,94,60

4870
5270

5250
n.a.

2630
2830

2250
n.a.

2 pilots+
11 pass.

195
210
210
210
n.a.

850

n.a.
850
n.a.
Junkers G31 Designators:
G31,1, prototype of Sept. 1926 with three Junkers L5
G31.2, same prototype with BMW VI center engine
G31ba, initial serial production like G31.2
G31de, three Gnome et Rhone Jupiter VI, closed cockpit, second vertical stabilzer
G31fi, three Siemens Jupiter, larger fuselage and wing
G31fo, three BMW Hornet, 1931/32 modification from earlier series
G31ho, Pratt + Whitney center engine, BMW Hornet wing engines
G31go, freighter version with cargo door on roof, open Cockpit
Weblinks:
Literature:

introduced Jul 1996, transfered Jun 2017
http://hugojunkers.bplaced.net/
contents last updated 25 Jan 2003