Junkers Luftverkehrs AG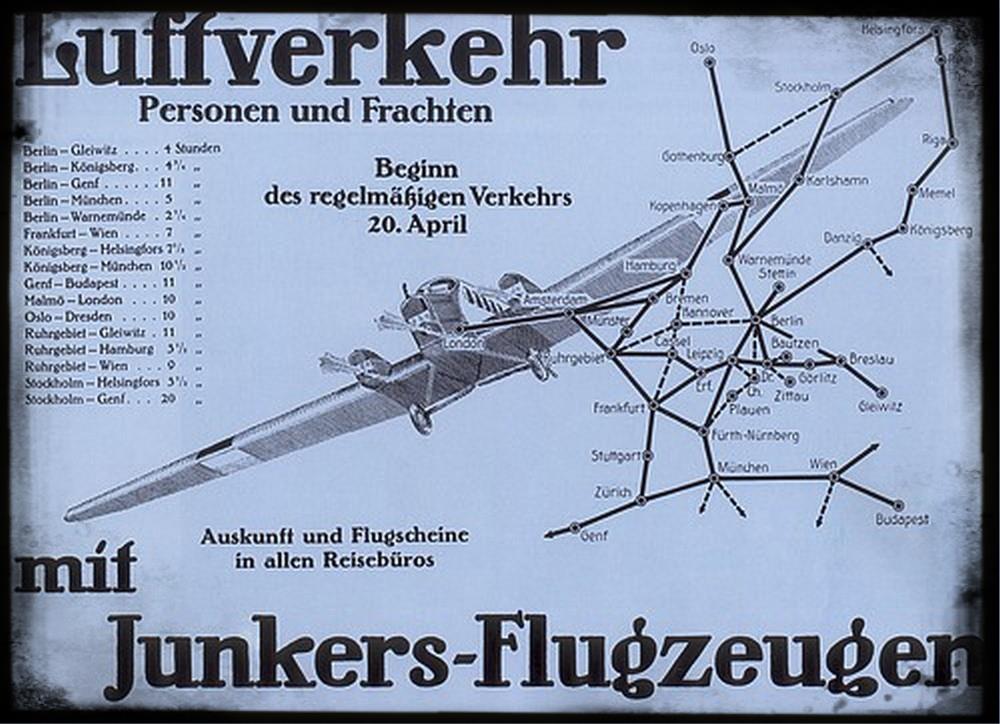 Founded:
April 1919 as a Department of Air Traffic at IFA
13.08.1924 as Junkers Luftverkehrs A.G. in Dessau

Main Business:
Integration of the airline consortium
Operation of own airline networks

Management Positions:
1919 - Johannes Viehweger, manager air traffic departement
1924 - 1925 Gotthard Sachsenberg, managing director of ILAG

Facilities:
Nuremberg-Fuerth as an aircraft repair station

Company Development:
17th March 1919

Junkers Flugzeugwerke AG received the German Airline Approval No. 5

The initials of Germany's commercial air traffic after WW I were laid during the National Convent at Weimar, which started in March 1919. DLR started Germany's first regular route from Berlin to Weimar on March, 1st 1919 with newspaper and offical document flights from the Reich's municipal to the politican's at Weimar and took back the daily results of the meeting to the newspaper offices at Berlin.

Shortly before the beginning of the Weimar Convent Hugo Junkers decided to start an airtransport service between Weimar and Dessau. On March 3rd, 1919 he put a request for an airline approval to the Reichsluftamt and already in March 17th, 1919 the RLM Approval No. 5 for a commercial airline service between Dessau and Weimar was still issued for Junkers-Fokker Werke A.G.

In April 1919 the Departement of Air Traffic (Abt. Luftverkehr) was founded at Junkers Flugzeugwerke. This departement was responsible for the complete organisation of Junkers air traffic.

26th April 1919

Initial Junkers Air Transport Services from Dessau to Weimar Operations were started on 26th April 1919 from Dessau to Weimar-Nohra with a modified Junkers J10 aircraft (D-77). Two Junkers J10 aircraft were modified for passenger services with a cover over the rear passenger seat. Both aircraft were registered D-77 and D-78. A further Junkers J9 and a J11 was intended to be added to the fleet

17th June 1919

First Passenger Service with Junkers aircraft from Dessau to Weimar

On June 17th 1919 the first passenger flight of Junkers Luftverkehr was performed from Dessau to Weimar. Dessau's major Hesse was the first passenger to board a Junkers Luftverkehr aircraft..

Junkers was limited in its operations on the route from Dessau to Weimar. Therefore an extended approval was requested at the RVM, which was issued on May 5th 1919 as Approval Number 5a for air operations to all German destinations.

Nevertheless, the end of the Weimar Convent also brought the end of Junkers' initial regular services between Dessau and Weimar. The J10s were used for some sightseeing flights and perhaps a few charter flights.



May 1919

Discussions with Allgemeiner Luftdienst for further expansion of airline activities

Since May 1919 Junkers was in discussion with Allgemeiner Luftdienst, which just had been formed by the merger of Sablatnig and Luftfahrzeug-Gesellschaft mbH. Junkers was asked to join the consortium with an air service from Berlin to Hannover, Osnabrueck and Holland. However, due to the experiences from the Weimar operations, Junkers Flugzeugwerke decided not to continue an own air operations in 1919.

Further discussions between Junkers Flugzeugwerke and Deutsche Luftreederei DLR and AEG took place in 1919. AEG was interested in merging its aircraft production branch with Junkers Flugzeugwerke A.G. uncluding its DLR airline operations. However Junkers was not interested in loosing control upon his aircraft factory and therefore further negotiations did not come to a successful end.

7th November 1920

Junkers joint Lloyd Ostflug GmbH

In 1920 Gotthard Sachsenberg founded Luftreederei der OIa in Koenigsberg. He tried to achieve an airline license for his company, but the RVM rejected Sachsenberg's approach, as he was unable to offer any capabilities for an airline operation. Sachsenberg therefore contacted several aircraft manufacturers and offered a participation in his airline in exchange for the supply of aircraft.

Junkers and Albatros Flugzeugwerke GmbH joint the Sachsenberg venture together with Norddeutscher Lloyd and supplied some of their aircraft to Luftreederei der OIa. On 7th November 1920 the new airline was founded as Lloyd Ostflug GmbH.

But already in 1921 Norddeutscher Lloyd founded the Lloyd Luftdienst GmbH, which became responsible for all airline developments of Norddeutscher Lloyd and in March 1922 Lloyd Luftdienst formed the Danziger Lloyd Luftdienst GmbH, which was directly competing with Lloyd Ostflug GmbH. Lloyd Luftdienst and Albatros as shareholders of Lloyd Ostflug put restrictions for the flight operations of Lloyd Ostflug in advance of their own airline Danziger Lloyd Luftdienst GmbH. Finally Sachsenberg and Junkers retreated from Lloyd Ostflug. Danziger Lloyd Luftdienst GmbH took over the routes from Lloyd Ostflug, while the company itself was dissolved in May 1922

2nd December 1921

Foundation of the Department of Air Traffic within Junkers Flugzeugwerke A.G.

When Junkers and Sachsenberg were forced to retreat from Lloyd Ostflug, Hugo Junkers established a new department of air traffic at his Junkers Flugzeugwerke A.G. in December 1921. The remains of Sachsenberg's Luftreederei der OIa were integrated into that department, which was responsible for all questions of Junkers operated air traffic.

While Danziger Lloyd Luftdienst GmbH took over the routes from Lloyd Ostflug, Junkers cooperated with another Danzig based airline called Danziger Luftpost GmbH, which was operated by Erhard Milch, a former pilot of Sachsenberg's squadron. Danziger Luftpost operated along the former Lloyd Ostflug routes on behalf of Junkers from Berlin via Danzig and Koenigsberg. Danziger Luftpost GmbH was the first nucleus of a large number of airlines, which operated under the leadership of the Abteilung Luftverkehr. Sachsenberg now started to expand the existing route network by the foundation of new local airlines.

The principle of the foundation of such new airlines was quite simple. Local authorities offered an area, which was usable as an airport. Local industrials and companies entered the operating fund for the new airline and Hugo Junkers supplied these airlines with his Junkers F13 passenger aircraft. A large number of airlines were formed in such a way and a lot of them were the nucleus for airlines, which are still remaining in todays business.

The Abteilung Luftverkehr of Junkers Flugzeugbau was not an operational unit. It was more like a holding organisation for the different airlines, which were controlled by Junkers Flugzeugbau. The major task of this department was the support of foundations of new airlines, the integration of airlines into the Junkers Luftverkehr and the development of route networks, which were served by the different Junkers Luftverkehr partners.

July 1922 to
Autumn 1923

Formation of OSTEUROPA UNION

The expansion of the Danziger Luftpost GmbH service from Berlin to Danzig and Koenigsberg was started in July 1922, when Sachsenberg and Junkers formed the Aerolloyd Warschau at Danzig together with some oil companies from Poland. This airline provided the network extension from Danzig to Posznan, Warsaw and later to Cracow in Poland.

In August 1922 the Junkers Luftverkehr Russia started its service from Moscow to Nizhnii Novgorod, which was extended to Tiflis and Baku in 1923.

In July 1923 a cooperation agreement between Junkers and the Latvian based Latvijas Gaisa Satikmes A/S was signed and operations were started between Riga, Memel and Kongisberg, which was later expanded to Reval in Estonia by Latvijas Gaisa Satikmes. This cooperation extended the Danziger Luftpost GmbH routes to the Baltic States.

Also in July 1923 A-S Aeronaut from Tallin signed a cooperation agreement with Junkers, after it has left the Lloyd Luftdienst ring. Aeronaut expanded the Latvijas Gaisa Satikmes route from Tallin to Helsingfors.

Already before the cooperation agreements with Latvian Air Transport and A-S Aeronaut, ideas were born at the air traffic department at Junkers Flugzeugwerke for creating a common marketing name for its operations. In March 1923 the name OSTEUROPA UNION was used for the first time. On 7th March 1923 the name was first used for operational flights of Danziger Luftpost GmbH. In June 1923 OSTEUROPA UNION was officially created by Danziger Luftpost GmbH, Latvian Air Transport and A-S Aeronaut. It seems, as if Aerolloyd Warschau was not a member of Osteuropa Union at this time.

December 1923

Transformation into NORDEUROPA UNION

On 9th October 1923 at Helsinfors the Finish Aero O/Y was formed with the support of Junkers Flugzeugwerke. The company joint OSTEUROPA UNION on the same day. Aero O/Y and A-S Aeronaut initially planned to start a common operation between Helsingfors and Tallin in April 1924. However, the air traffic department at Junkers Flugzeugwerke intended to use Aero O/Y for route expansions to Sweden in 1924. As a preventive action OSTEUROPA UNION was already renamed into NORDEUROPA UNION in December 1923.

30th October 1923

Formation of TRANSEUROPA UNION

Already in November 1921 Junkers and Sachsenberg were looking for a route extension of their Lloyd Ostflug network to the South. As Lloyd Ostflug was operating under the marketing name of Lloyd Luftdienst GmbH at this time cooperations already existed with Rumpler Luftverkehr, which was providing the air traffic from Berlin and Dresden to Munich. When the Junkers group left Lloyd Luftdienst in 1922 discussions with Rumpler Luftverkehr were intensified and finally Rumpler Luftverkehr together with their partner Bayerischer Luft Lloyd joint the Junkers group in the end of 1922. Both airlines provided the link from Munich to Berlin, where the Lloyd Ostflug network to the Baltic destinations was provided.

But parallel to the basic link of the Bavarian capital to the Junkers network, Sachsenberg and Junkers also started to develop another route network in Southern Germany. It started in March 1922 with the partnership between Junkers and the Swiss based Ad Astra Aero, which provided services from Geneve via Zurich to Nuremberg and Munich for Junkers Luftverkehr. In December 1922 Ungarischer Aeroexpress was founded by Junkers in Hungary. This airline was intended to provide services from Budapest and Vienna to Munich. However, due to political problems with the Austrian government Junkers had to support the foundation of OELAG in Austria in May 1923 and to accept that airline within his network on the route from Munich to Vienna, while Ungarischer Aeroexpress provided the route from Vienna to Budapest since July 1923.

Already in May 1923 the Southern Junkers network from Budapest via Vienna and Munich to Zurich was named under the name TRANSEUROPA UNION. On 30th October 1923 TRANSEUROPA UNION was officially established during a member meeting of the Junkers Southern network.

In 1924 Ungarischer Aeroexpress ceased its operation and left the TRANSEUROPA UNION, when OELAG took over the route from Vienna to Budapest. However, TRANSEUROPA UNION took over the dominant part of the Junkers airline consortium in 1924, when several new airlines in Germany were founded with the support of Hugo Junkers.

1924/25

Developing the German Route Network

While the initial activities of Junkers Luftverkehr were focused on the development of a European Network, this focus was changed to a German Network since the beginning of 1924. Larger cities and major industrial regions became interested in connecting to the international network of Junkers Luftverkehr and/or Deutscher Aero Lloyd. Both airlines on the other hand were interested to feeder their main routes with passengers from smaller nearby areas and both airlines began to compete for these passengers. This became the starting point for the foundation of several dozens of small airline companies in Germany, which joined the Junkers Luftverkehr or the DAL group.

Rumpler Luftverkehr and Bayerischer Luft Lloyd were already member of the Junkers Luftverkehr since 1923. On 12th March 1924 Saechsische Luftverkehrs A.G. in Dresden was founded as the first out of a number of airlines with Junkers Luftverkehr and regional organisations as their shareholder.

Most of these foundations were symtomatic. Hugo Junkers provided several aircraft to the newly founded company in exchange for his shares. The regional organisations were responsible for providing adequate airport facilities. The airline itself was responsible for the marketing in their region, as well as for the flight operations, which mostly was provided with their own aircraft, but also often was provided by other partners of the Junkers Luftverkehr network.

Saechsische Luftverkehrs A.G. initially linked the city of Dresden to the Transeuropa Network. In 1925 it extended its routes also to the Ruhrgebiet. In July 1924 Suedwestdeutsche Luftverkehrs A.G. followed with connections from Frankfurt to Berlin and Munich. The Slesian area of Breslau/Wroclaw was integrated into the Junkers network with the foundation of the Schlesische Luftverkehrs A.G. in January 1925 and connected Dresden and Berlin with the Slesian capital of Breslau. This foundation was followed by the Upper Slesian foundation Oberschlesische Luftverkehrs A.G. in February 1925, which was intended for the integration of the City of Gleiwitz. An important foundation was the Luftverkehr Ruhrgebiet A.G. (LURAG) in January 1925, which provided links from the Ruhrgebiet to Hamburg, Switzerland, Netherlands, Berlin and Dresden.

Further partners became Badische Luftverkehrs GmbH in Karlsruhe, Bayerische Luftverkehrs A.G. in Munich and Westflug GmbH in Oeyenhausen. All German airlines, which joint the Junkers consortium in 1924/1925 became member of the TRANSEUROPA UNION. The foundation of the inner German network was more or less completed in May 1925.

13th August 1924

Foundation of Junkers Luftverkehrs A.G.

The initial intention of Hugo Junkers was the selling of his aircraft to potential airlines. The lack of such potential customers required the support of the foundation of airlines. Most of the initial partner airlines were operating their own network with own aircraft. Junkers concentrated on the manufacturing and repair of the aircraft.

With the foundation of OST- and TRANSEUROPA UNION more and more routes were operated between the partner airlines on a shared base. Some airlines reduced or stopped their own operation and became more focused on the selling of tickets.

The new partnerships in Germany brought a completely new relation. Instead of private investors, which were interested in an own profitable airline operation, more and more public investors like cities or regional countries became partners of Hugo Junkers. These new types of partners were not really interested in airline operations, but in connecting their local area to an air traffic network. Several of the German airline foundations never started an own operation as airline, but used other airline partners from the Junkers UNIONs to connect their city of airport to the Junkers network. These airlines mostly were local selling organisations as well as operator organisations for the local air fields.

Therefore the Department of Air Traffic at the Junkers Flugzeugwerke had to establish an own airline operation in 1924 to fill the gaps of the non operational airlines. Not only from legal aspects of an airline operation, but also from the aspect of reducing the commercial risc of unprofitable airline operations from the Junkers Flugzeugwerke, it made sense to separate the Department of Air Traffic from the Junkers Flugzeugwerke. This was done on 13th August 1924 with the foundation of the Junkers Luftverkehrs A.G., which was totally owned by Junkers Flugzeugwerke. The Department of Air Traffic was completely transferred into the new airline and Gotthard Sachsenberg became the chairman of board of directors.

Junkers Luftverkehrs A.G. promptly joined the Transeuropa Union and therefore had the same status like the other partner airlines of the Unions.

August 1924

Night Operation Tests

Initial Night Test Flights were already started by Junkers on 12th March 1924 with Junkers A20 at Tempelhof. These experimental tests began with navigational flights and night landings. When Junkers Luftverkehrs A.G. was founded in August 1924 first route tests were performed from Berlin to Warnemuende and from there to Karlskrona and Stockholm. During August and September 1924 a total of 95tkm freight and mostly 234 tkm newspapers were carried from Berlin to Sweden. Further test flights were performed in October 1925 from Berlin to Warnemuende, also carrying newspapers, which were handed over to the night ferries at Warnemuende.

The tests of 1924 were satisfying and on 15th May 1925 scheduled night operations were started on the former test route via Karlskrona to Stockholm. Night Operations were completely cargo flights with no passengers on board. The main cargo again were newspapers, which were transported from Berlin to the Swedish capitol. In August 1925 the night flights were switched from Stockholm to Malmo and during October/November 1925 the flights were terminated at Copenhagen. A total of 722 tkm newspapers were carried during the 1925 night flight operations. Also initial 26 passengers were allowed on board the night flights in 1925.

Further extensions of the night flight operations were intended for 1926, but as Junkers Luftverkehr was absorbed into Luft Hansa in 1926, the further development of the night flight operation was done by Luft Hansa.

1925

Extending the European Network

While one important step in 1925 was the development of the German network, another important step was the extension of the European routing to the South. Junkers Luftverkehr started discussions with several airlines and investors in Italy, Spain and Greece. The TOMTASCH activites in Turkey were used for discussions about the foundation of a Turkish based airline in Eshkedir and even the idea of an air traffic between Persia and Europe, which was cancelled in 1923 following the difficulties between Junkers Luftverkehr Russland and the Russian Government, was refreshed, when discussions between Junkers and the Persian Government came up in 1925.

In Italy discussions were held with Transadriatica for routes from Rome to Venice, Vienna and Albania. Possible links to Spain and Portugal were discussed with Union Aerea Esponiol - U.A.E. in Spain and Serviços Aéreos Portugueses Limitada – SAP in Portugal. The TOMTASCH venture in Turkey was used for route investigations from Albania to Istanbul and even discussions with the Greek Government for the setup of a Greek air traffic were on its way.

7th May 1925

Foundation of EUROPA UNION KG

While extending the Transeuropa Network to South it became obvious, that the two independent networks in the North and in Central Europe must been integrated into one common network. On 7th May 1925 all members of the two unions were invited for a discussion of that theme to Dresden. As a result EUROPA UNION KG was founded at the end of the meeting. It was intended to integrate NORDEUROPA and TRANSEUROPA UNION at the end of 1925 into the new organisation.

In addition to the current members of the two previous organisations EUROPA UNION continued the discussions with potential new members in Southern Europe. It was intended to provide a throughgoing network from Scandinavia to Southern Europe under the marketing name EUROPA UNION with the beginning of the winter season 1925.

October 1926

Merger with Deutscher Aero Lloyd into Deutsche Luft Hansa A.G.

Since the beginning of the German Air Transport the German Reich was paying subsidies to the operating airlines in Germany to cover losses from operating costs against incomes. The subsidy was payed per flown kilometer in the German network. The yearly amount of paid subsidies raised between 1919 and 1923 due to the extending German network and due to the inflation in 1923. Between 1924 and 1926 the route network did not grew any longer, nevertheless the subsidies paid to the airlines exploded:

| | |
| --- | --- |
| 1924 | 4,9 Mill. RM |
| 1925 | 8,2 Mill. RM |
| 1926 | 15,6 Mill. RM |


The main reason was a massive competition between the two large consortiums in Germany, Junkers Luftverkehrs A.G. and Deutsche Aero Lloyd A.G. When their joint venture Lloyd-Ostflug GmbH was dissolved in 1922, both airlines, Lloyd Luftdienst GmbH which became DAL in 1923 and Junkers Luftverkehr started their own network development. Initially competition was were small. Junkers developed the Scandinavian Network and the Zurich to Budapest routing. DAL was focused on German, Russian and partially Southern European routings. But at least, when Junkers started to improve the German network of Junkers Luftverkehrs A.G. strong competitions between both airlines developed in form of

· Parallel operations on same routes from same airports

· Setup of two major airports within a few kilometers for each competitor

· Setup of two regional airlines at same or nearby airport for each consortium
with regional support of sometimes competing industries, regions or cities

· Massive Price Dumping on routes with competition

The development of a self-financed air traffic in Germany was far away in that situation. It became more and more obvious, that the cost problem of the airline industry was only partially caused by the introduction of an innovative technology. More and more the cost problem was caused by the competition of the two consortiums with its 37 airlines, which were operating and getting subsidies in 1925.

When Ernst Brandenburg became head of the Air Traffic Departement at the Reichsverkehrsministry in Summer 1925, he was strongly focused on the economy of the German air traffic. He was interested in stopping the competition of the two airline blocks. Gladly for him, Junkers Flugzeugwerke A.G. was unable to repay its loans on 3rd October 1925. The German Government supported JFA with 650.000 Reichsmark and prevented the factory from bankruptcy. But the Reich also forced Hugo Junkers to transfer 80% of the Junkers Luftverkehrs A.G., which was worth about 1.6 Mill. Reichsmark at that time, to the Reich. Now, when the Reich controlled Junkers Luftverkehrs A.G. Brandenburg announced, that the Reich would only support a single airline with the beginning of the Summer Period 1926.

In this situation, DAL quickly realized, that the state-owned Junkers Luftverkehr would receive future subsidies and that DAL would be forced to provide a self-financed air traffic, which was not possible in 1926. Therefore DAL management joint the discussion about the foundation of a new German airline, into which both large consortiums should be integrated.

In December 1925 the ownerships of the new airline were evaluated. The assets of the two cosortiums were fixed on 31st December 1925 as following:

Deutscher Aero Lloyd

Junkers Luftverkehrs A.G.

Aircraft and Engines

4.661.431

3.928.050

Tooling

267.376

199.433

Maintenance Facilities

788.556

44.100

Offices

43.241

50.690

Material and Fuel

1.807.246

1.022.354

Financial Holdings
(only German share holdings)

1.191.300

1.020.100

Total

8.759.150

6.264.776

Based on that asset calculation the new airline was founded. On 6th January 1926 all financial share holders of the two airline consortiums met at Berlin's Hotel Kaiserhof. During that meeting it was finally decided to integrate both consortium in a new airline named Deutsche Luft Hansa A.G. According to the Asset check the share holder situation of the merged airline looked as follows:

Junkers Flugzeugwerke

5,2%

20% of JLAG,
Transfered to the Reich in Dec. 1926

German Reich

20,8%

80% of JLAG

Private Investors

Banks
Industry
NDL, Hapag
Trading
other airlines
other cities

27,5%

8,5%
5,4%
1,1%
0,9%
3,8%
7,4%

DAL share holders

31,0% of DAL
19,6% of DAL
4,0% of DAL
3,4% of DAL
13,9% of DAL
26,8% of DAL

German Provinces

Prussia
Bavaria
Saxonia
Wurttemberg
Baden
Hamburg

19,0%

12,8%
2,0%
2,0%
1,2%
0,8%
0,3%

Regional Airlines

LURAG
Sudwestdt. LVAG
Oberschles. LVAG
Schlesische LVAG

Mitteldt. LVAG
Süddt. Luft Hansa
LVG Provinz Sachsen
LVAG Niedersachsen
Bad-Pfälz. Lufthansa

City of Dresden
City of Leipzig
City of Wiesbaden

27,5%

4,8%
4,0%
1,5%
1,6%

3,2%
6,4%
1,1%
0,5%
0,4%

1,6%
1,6%
0,8%

14 regional airlines

JLAG Partners




DAL Partners



other Partners

Shares of international airlines were kept by Junkers Flugzeugwerke with the exception of OELAG. However, with the loss of the German network, Junkers was unable to integrate the different foreign airline routes. Even he was unable to provide any financial support as the financial situation of Junkers Flugzeugwerke still was critical after 1925. Luft Hansa took over the network partnership with the former Junkers partners and throughout the following years, Junkers sold his international shares step by step. In 1932 no airline share stocks were holded by Junkers Flugzeugwerke.

And even the remaining 5,2% of Luft Hansa A.G. which were held by Junkers Flugzeugwerke in 1926 were in the focus of the German Government. Continous discussions led to a final agreement between Junkers and the German Government on 20th December 1926, when Hugo Junkers transferred his share package to the German Reich, bringing the state owned package of Luft Hansa shares to 26%.

Junkers Luftverkehrs A.G. itself was dissolved in 1927. Most foreign airline shares were already holded by the Air Traffic Department of Junkers Flugzeugwerke A.G. and not by the Junkers Luftverkehrs A.G.
introduced Aug 1996, transfered Dec 2017
http://hugojunkers.bplaced.net/
contents last updated 8 Nov 2005