Junkers-Fokker Werke AG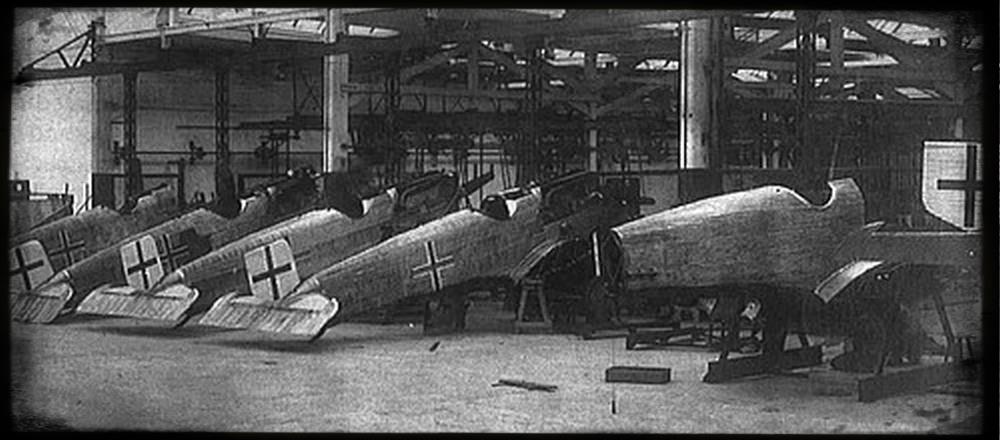 D.I Production at Junkers-Fokker Facility at Dessau

Founded:
20.10.1917 at Dessau, Germany
by Hugo Junkers and Anthony Fokker
influenced by the German government
absorbing the Junkers + Co. aircraft production Departement

Main Business:
Serial aircraft production
of aircraft types, developed by Junkers Forschungsanstalt
Relationship between IFA and Forschungsanstalt based on license agreements

Management Positions:
1917 - 1919 Hugo Junkers, ownership 50% (100% since April 1919)
1917 - 1919 Anthony Fokker, 50% ownership until April 1919
1917 - 1919 Herrmann Schleissing, managing director of IFA

Facilities:
Cothenschen Strasse, Dessau

Company Development:
The initial Junkers aircraft J1 to J3 and the J4 prototypes were still produced within the Junkers + Co. workshops. Following the successfull tests of the Junkers J4, IDFLIEG was interested in a serial production of this combat aircraft. However, IDFLIEG was not convinced with the Junkers facilities in Dessau, as Junkers did not have any experience in a large scale serial production of aircraft. Nevertheless an initial order for 50 Junkers J4s was placed in February 1917. Difficulties with the material supply of the armour plates, which were provided by Huettenwerk Dillingen and change requests from the still ongoing test programme at Adlershof resulted in the IDFLIEG expected delivery delays. The first aircraft 100/17 was delivered in August 1917 for front tests. At this time Junkers was still unable to put out the promised number of 30-50 aircraft per month. Therefore IDFLIEG refused to put any further orders for the J4 until Junkers solved his production problems. IDFLIEG also promoted a merger with one of the larger experienced aircraft manufacturers in Germany. Due to the missing IDFLIEG orders Junkers got into financial problems and therefore started discussions with several potential partners:


Daimler

Stinnes

Siemens-Schuckert

Bosch

Aviatik

Oesterreichsiche Fiat

Fokker

The experienced manufacturers were interested in picking up the J4 design for their own production lines and offered Junkers a minority shareholder position. But Hugo Junkers still intended to set up an own production line at his facilities at Dessau and was therefore looking for a partnership with knowledge transfer. Camillo Castiglioni of the Oesterreichische Fiat made a promising offer leaving Hugo Junkers with 70 percent of the shares. The joint venture company was intended to take a license agreement for the J4 from the Forschungsanstalt at Dessau and Fiat would be responsible for the setup of a serial production in the new company. However, these discussions did not came to a successfull end.

Anthony Fokker was another discussion partner. Instead of picking up the J4 for his own production lines, he offered the setup of a new facility at Dessau. As the Fiat offer, the Fokker offer was heading for a license agreement between the new company and the Forschungsanstalt. Junkers and Fokker should hold 50 percent of the company. On 20th October 1917 the Junkers-Fokker-Werke A.G. was founded at Dessau with a capital of 2.6 Mio. Mark. The Junkers capital was added with facility grounds, tools and materials

Following the foundation of the Junkers-Fokker-Werke IDFLIEG promptly put several orders for Junkers aircraft (for detailled orders, see here). With the engagement of Fokker at the Junkers facility and with additional staff from the Fokker-Werke at Schwerin the production rate at Dessau was raised from 17 J4 aircraft in January 1918 to 31 aircraft in October 1918. However, this was still less than the promised output rate of 50 aircraft per month. Initially the J4s were shipped to Doeberitz for flight tests, still in 1917 the flight tests were transfered to Wurzen near Leipzig. In May 1918 Junkers was able to offer test flights at a newly established airfield at Dessau as well. At least with the production setup of the Junkers J9 new complexities arise.

To increase the number of available J4 aircraft, in Summer 1918 IDFLIEG placed orders at other aircraft manufacturers for the J4 as well. In June 1918 a number of 100 J4 aircraft were ordered at Linke-Hofmann in Breslau. But as the license discussions between Linke-Hofmann and the Forschungsanstalt did not make progress, this order was later cancelled. Another thrid party order was put by IDFLIEG at Hansa-Brandenburg for a total of 50 Junkers J9 aircraft. Again this third party order was not realized. Therefore all WW I Junkers aircraft were produced at Junkers + Co. or at Junkers-Fokker-Werke.

At the end of WW I deep differences between Junkers and Fokker existed. During the time of Junkers-Fokker-Werke Fokker always tried to transfer technological knowhow from the Junkers-Fokker-Werke to his own facilities at Schwerin. Additionally Fokker took opposite positions to Junkers' designs as he liked to promote his own aircraft at IDFLIEG. On the other hand ICO and JFAG were competitors regarding IDFLIEG orders, at least a number of pre series aircraft were built at ICO. Therefore, when WW I came to an end, both Hugo Junkers and Anthony Fokker quickly separated from each other and the Junkers-Fokker-Werke were dissolved.

As Fokker left Germany for the Netherlands, he was not interested in the remains of the Junkers-Fokker-Werke. Therefore Junkers took over the Fokker shares for about 1 Mio. Mark. On 3rd December 1918 an agreement between Fokker and Junkers was signed, which regulated the separation of Junkers and Fokker. While the remaining IDFLIEG orders for Junkers-Fokker-Werke were still in production, Fokker left the Junkers-Fokker-Werke A.G. with the termination of the last aircraft on 24th April 1919 offically. The remains of Junkers-Fokker-Werke A.G. were transfered into the Junkers Flugzeugwerk A.G..
introduced Aug 1996, transfered Dec 2017
http://hugojunkers.bplaced.net/
contents last updated 3 Oct 2004