Junkers J4 (J.I) Survivors
see also: Junkers Survivor List Overview
Only two original Junkers J4 survived until today.
A further two replicas for New Zealand should be under work in Hereg, Hungary.
A detailled description of the current J4/J.I survivors could be found in
Part I of our printed review "Die letzten Junkers-Flugzeuge I"
Junkers J-I (original fuselage, on display)
Museo Storico dell' Aeronautica Militare Italiana

Vigna di Valle, Italy
SNo. 278 (or 308), RNo. ukn.
Junkers J4 at the Italian Air Force Museum in Vigna del Valle in 2017 (Keypublishing Forum)
This J4 is most probably the oldest still existing Junkers Aircraft and is most probably Serial no. 278 (some Sources also Mention it as sno. 305). SNo. 278 was completed in April 1918 in Dessau. After the war, the Aircraft was handed over with three other Aircraft to Italy as a War Trophy. The Aircraft was exhibited on several Italian Air Shows, i.e. on the Esposizione Aeronautica Italiana 1934 in Milano. In 1973 the Aircraft was handed over to the Museo Nazionale della Scienzia e della Technica in Milano, where it went on public permanent Display. In Milano it got a fictive painting and the army Code 805/17, which was not authentic for that Aircraft.
In 2005 the Aircraft was handed over to the Technikmuseum in Berlin for restoration and a temporarily Display at the Technikmuseum. The Aircraft was repainted into the original green livery, which it has today. In 2010 the Aircraft returned to Milano, but it was handed over to the Italian Air Force Museum in Valle del Vigna shortly afterwards, where it is currently under Display.
Only the fuselage of the Aircraft exists today. Wings and undercarriage are missed.
Weblinks:
Junkers J-I (original, stored)
Musée de l'Aviation et de l'Espace du Canada


Ottawa-Rockcliffe, Canada
SNo. 252, RNo. 586/18, built in 1918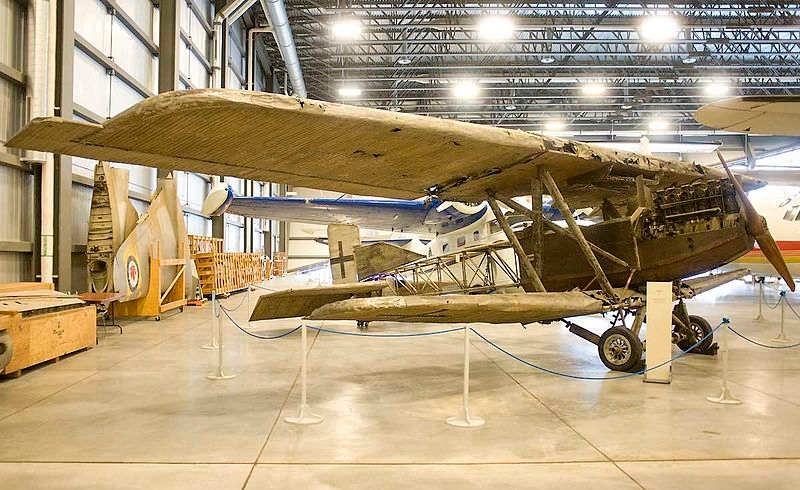 Junkers J4, SNo. 252 at the Canadian Aviation Museum Ottawa in 2012 (Mdex, Wikimedia, CC3.0)
This Aircraft was delivered as SNo. 252, 586/18 in September 1918 to the front Services. It was captured at Villers la Chevres at the end of the war and evaluated by U.S. Forces. Im Nay 1919 it was handed over to the Canadian Forces as a war Trophy and shipped to Canada, where it was exhibited on several Victory Shows before it was stored at Camp Borden.
In 1939 it was formally transfered to the Aeronautical Museum in Rockcliffe, but it took until 2014, when the Aircraft went under permanent public Display in Ottawa.
Weblinks:
Junkers J.I Replica
built at Hereg, Hungary
There are rumors that two Junkers J.I replicas should be built by the shop of Carl Birszak in Hereg in Hungary for some unknown customer in New Zealand. However, no further Infos are available yet.
introduced Nov 1996, transfered Jun 2017
contents last updated 18 Sep 2019