Junkers Ju90
see also: Junkers Ju90 Production List / Junkers Ju90 Survivor List / Junkers Ju90 Philatelic Items / Junkers Ju90 Model Kits
passenger airliner, Transport and reconaissance aircraft, F/F: 28. August 1937
cantilever monoplane in smooth metal construction by Ernst Zindel and Wagner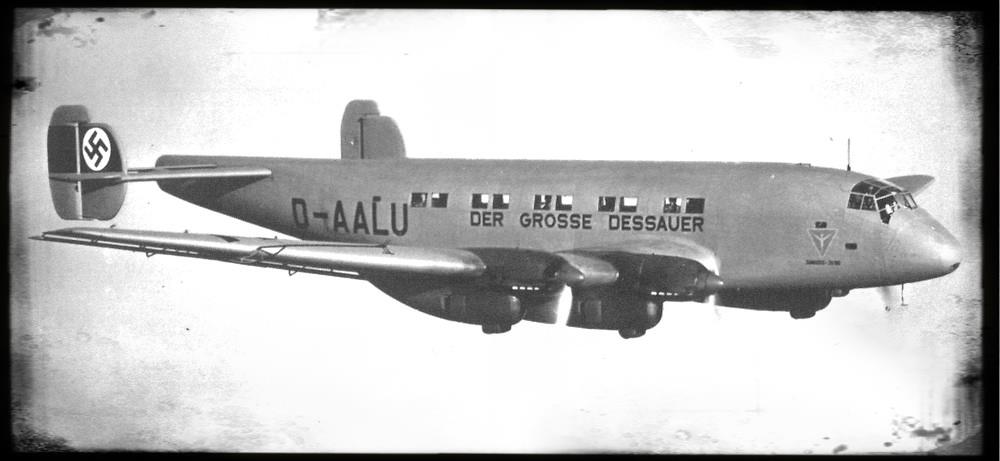 Junkers Ju90-V1
Passenger Airliner Prototype

Historical Data:

During the developement of the Junkers Ju89, Lufthansa became interested in a similar aircraft for transport purposes. Already in 1935 Luftwaffe decided to offer the Ju89V3 to Lufthansa for test flights. Probably it was intended to use the Ju89V3 as a pure cargo aircraft at this time. But when the Ju89 programme was abandoned by Luftwaffe in April 1937, the Ju89V3 underwent major changes, which made it useable as a widebody passenger aircraft. Wings and tails were taken from the original Ju89 design, while the fuselage was a complete new construction and which was much brider than the original Ju89 fuselage. This new design was designated as Ju 90.

The Ju90V1, which was original the Ju89V3, was first flown on August 28th 1937 by Hesselbach. During the following flight tests, this prototype crashed on February 7th 1938 due to structural failure during overspeed. The second prototype was delivered to Lufthansa in May 1938 for operational test flights. This second prototype also crashed on November 21st 1938 during tropical flight tests at Bathurst due to an engine failure during take off.

In November 1938 Lufthansa ordered three Junkers Ju90, a further Ju90 was ordered by RLM for flight tests. This aircraft was later also taken over by Lufthansa. South African Airways ordered a further two Junkers Ju90 with Twin Wasp engines. These two aircraft were not delivered until the breakout of WWII and both later went to Luftwaffe. Lufthansa finally ordered a total of 12 Junkers Ju90. Just six were delivered until September 1939. These aircraft were transfered to Luftwaffe together with further deliveries from Junkers. They were used during the occupation of Norway as transport aircraft. Some of them later returned to Lufthansa for a few months, but finally all Ju90s were taken over from Luftwaffe.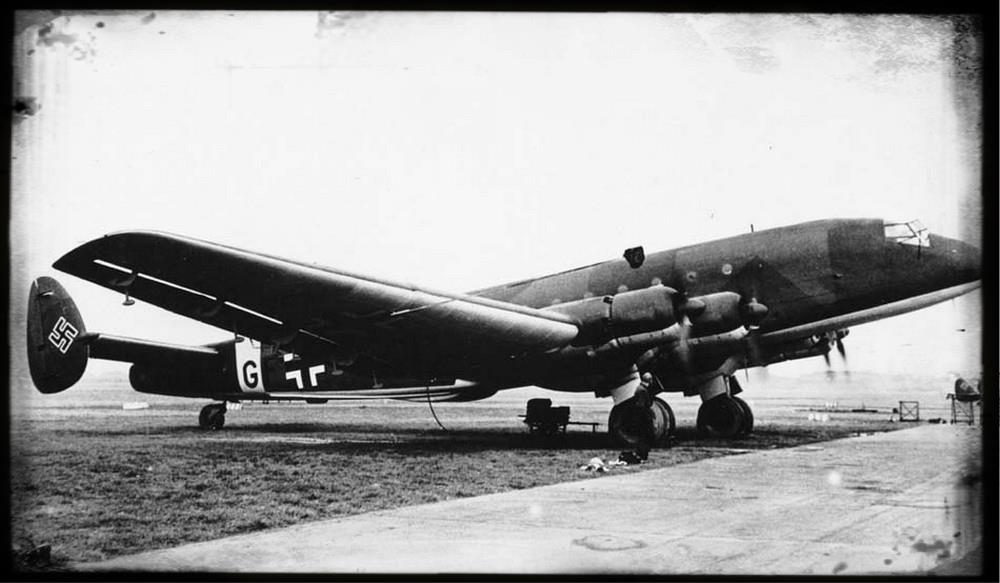 Junkers Ju90-V7 / Ju90-S
Horizontal Bomber Prototype
In April 1939 the RLM asked Junkers for a further developement of the Ju90 for military transport purposes. The Ju90V5 and V6, also known as Ju90B were the prototypes of this military design. They got a new wing and a BMW139 engine instead of the older BMW132. Modifications were also made at the tail unit and the undercarriage. The V5 flew first on December 5th 1939. A special equipment of the Ju90V6 was a boarding ramp in the floor of the fuselage. This ramp could be used to load cars and larger cargo freight. A further two prototypes (V7, V8) were ordered by Luftwaffe. Again these prototypes were equipped with a modified wing with increased span. The V8 was also equipped with machine gun towers for self defense. Actually the Ju90V8 was introduced as the Ju90 bomber version, known as Ju90S. These two prototypes flew first in September 1941. Delays were caused due to intensive modifications of the original Ju90 design and probably due to problems with the developement of the Ju88 programme. Junkers got an additional RLM request for a further two prototypes (V9, V10), which seemed to be dropped at the beginning of WWII.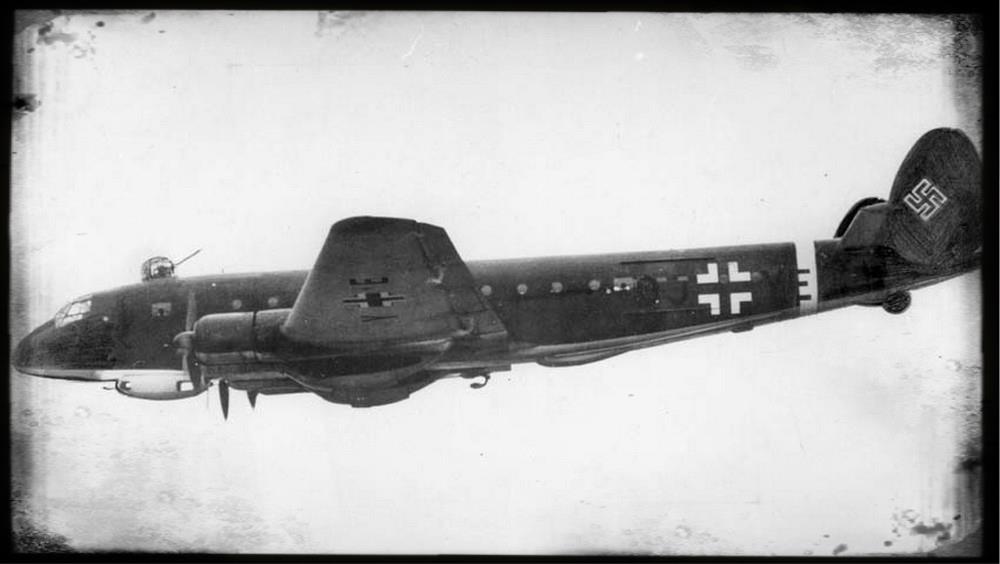 Junkers Ju290-V2
In 1941 the RLM again asked for the continuation of the Ju90 transporter developement by a request for two further prototypes (V11, V12). Due to extensive differences between the V11 and the original Ju90, the complete programme was renamed into Ju 290. The Ju90V11 and Ju90V12 were redesignated as Ju290V1 and Ju290V2. The V1 was first flown on July 16th 1942 by Pancherz. Major parts of the developement were performed at the Czech aircraft company Letov at Prague. It was also intended to set up a production line at Prague, but finally just components were produced at Letov. A total of six Ju290 military transporters were built as Ju290-A1 (including the V2 prototype). In May 1943 the first Ju290-A2 was first flown. The A2 to A7 were the surveyer version of the Ju290, which was used for aerial flights throughout the Atlantic Ocean.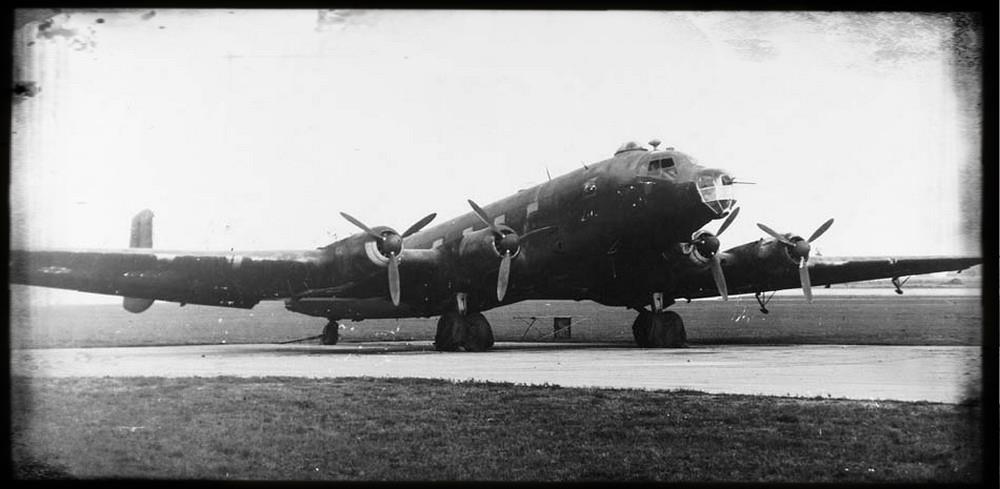 Junkers Ju290-A7 Recconaissance/Bomber Aircraft
While the Junkers Ju290-A1 to -A5 were very similar in their shape, the Junkers Ju290-A7 got a complete new front nose and a slightly modified tail unit. The front section was equipped with a machine gun tower, which made the Ju290-A7 not only usable as a pure reconnaissance aircraft, but also for ship target attacks. In May 1944 an improved Ju290-A7 was developed at Prague as Ju290-B, which should be suitable for higher altitudes and an increased take off weight of 49.500kg. The Ju290-B was capable for a payload of 4500kg of bombs or transport payload at a range of 5600km. At the end of WWII. The first Ju290B was still under construction at Letov in Prague. Further design studies for a Ju290-C and Ju290-D as a long range bomber with increased payload were under study, as well as a Ju290-E night bomber project. A total of 48 Junkers Ju290 were built until the end of WWII.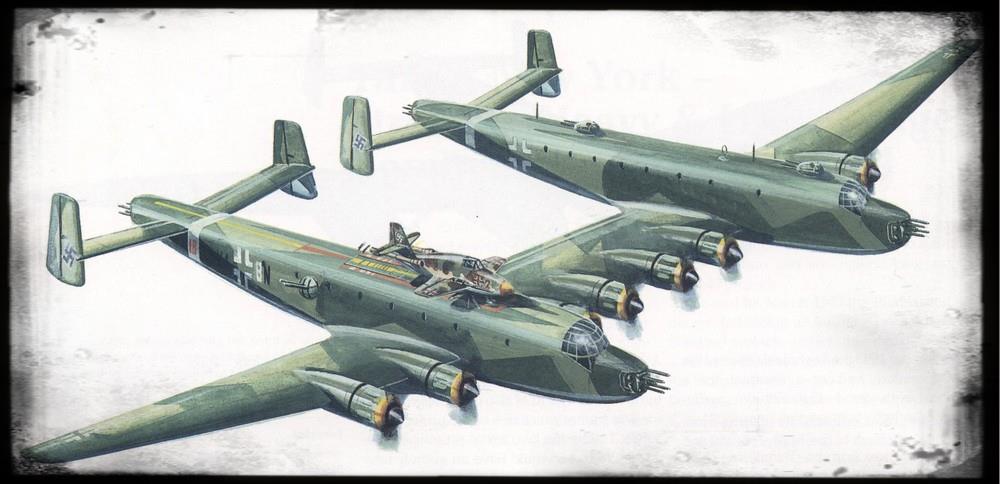 Junkers Ju290-Z Zwilling Aircraft
(c) Herwig/Rhode, taken from "Geheimprojekte der Luftwaffe"
In March 1942 the RLM was looking for highly improved long range aircraft, which could be used as bomber or surveyer. A Junkers project idea was the developement of a "Zwillings"-aircraft Ju290Z based on two Ju290. Like the Heinkel He111Z both aircraft were coupled by a common center wing, into which also four engines were integrated. For surveyer missions a Messerschmitt Me328 was placed on the top of one of the two Ju290 fuselages. The Ju290Z would have been a very quick developement for the RLM long range surveyer request as most of the components used by the Ju290Z were already available from the Ju290. The parallel design of the Junkers EF101 was a complete new developement and would have taken much more developement time. Nevertheless, both Mistel projects were finally abondend by the RLM.


Junkers Ju390V1 Prototype

Parallel to the Ju290Z a six engined Ju290 was under developement at Junkers since 1942. This developement was started under the designator Ju 390. On October 20th 1943 the Ju390 prototype was first flown by Pancherz at Merseburg.The flight tests were satisfying and RLM placed an order for 26 Ju390-A1 transporters in 1944. But in July 1944 all production activities were stopped for the increased fighter production. Only a second Ju390 aircraft was built until the end of the war. The Ju390 was intended as a widebody transporter Ju390A and long range surveyer aircraft Ju390B. Another purpose was a long range bomber aircraft Ju390C for missions to the United States (New York Bomber). It is reported that two aircraft flew from France to New York in 1944, but this seems to be wrong. The bomber version should have been able to pick up Henschel rocket bombs. Another Ju390 design saw a Mistel construction, where a Messerschmitt Me328 should have been put on the top of the Ju390. Probably at the beginning of the development of the Ju390, Lufthansa seemed to be interested in this design as well for long range air traffic after the war.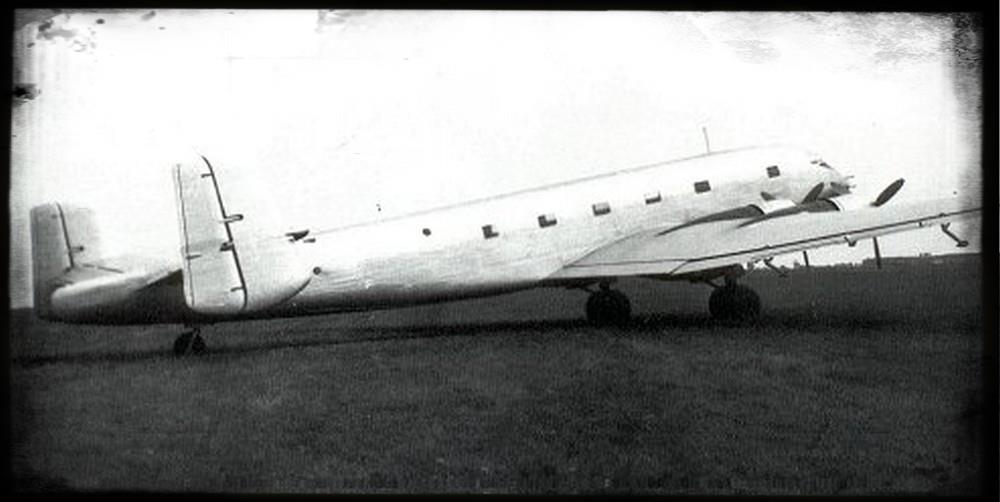 Junkers / Letov Ju290 Orel

Japan was also interested in the Ju390. An agreement was signed for a license production of the Ju390 in Japan in January 1945, but the shipping of the Ju390 documentation to Japan was not possible until the end of WWII.

The total Ju290 production came to an end in July 1944 with the start of the socalled "Jager-Notprogramm". But a single Ju290 was completed after WWII at Letov in Prague after WWII. This Ju290 was finished from parts produced for the first Ju290B. Letov redesigned this aircraft as a passenger aircraft under the designator Letov L.290 Orel. This aircraft flew first during 1946 and was used for flight tests. But it was never used in airline operations. In 1950 it was retired, probably as the last Ju290 and later it was scrapped.


Technical Data:
Aircraft

year
engine
length
in m
span
in m
wing area
im sqm
net weight
in kg
payload
in kg
seats
speed
in km/h
range
in km

Ju90V3
Ju90A1 (Z2)
Ju90A1 (Z3)
Ju90V7/V8
Ju290A1
J290A3/A4/A5/A9
Ju290A7
Ju290B
Ju290Z
Ju390

1937
1938
1938
1939
1942
1942
1944
1944
1942
1943

4 x BMW132H1 (610kW)
4 x BMW132H1 (610kW)
4 x P&W Twin Wasp SB3G (670kW)
4 x BMW801A
4 x BMW801L2
4 x BMW801L/D (1250kW) *)
4 x BMW801G
4 x BMW801E
8 x BMW801D
6 x BMW801E

26,45
26,45
26,45
28,20
28,60
28,60
29,15
29,30
28,00
33,40

35,30
35,30
35,30
42,00
42,00
42,00
42,00
42,00
60,00
50,30

184,00
184,00
184,00
205
203
203
203
203
n/a
254

16500
16000
16800
19020
20315
22800
24780
29800
T/O:
39500

6800
n.a.
7290
17180
13615
18200
20200
20800
90000
35500

3
4+40
4+40
7+40
5+48
7
7
8
n/a
8

350
350
380
420
350
450
450
430
n/a
470

1050
n.a.
1600
2000
2500
4100
4600
3300
11000
950
*) series A9 with BMW801G

Subtype Description:

Ju90 Aircraft
Ju90V1 with 4 x 740kW DB600A, prototype
Ju90V2/V3/V4 with 4 x 650kW BMW132H-1, prototypes for Ju90A
Ju90V4 modified with 4 x Jumo211F/L engines for test purposes
Ju90A1, also Ju90Z2 with 4 x 650kW BMW132H-1, 8 built for Lufthansa and RLM
Ju90A1, also Ju90Z3 with 4 x P&W Twin Wasp SC-G, 2 built for South African Airways, not delivered
Ju90V5 with 4 x BMW132M, prototype for Ju90B with new wing, tail unit and oval cabin windows
Ju90V6 with 4 x BMW139, prototype for Ju90B as V5
Ju90B improved second series, only planned, no serial production
Ju90V7/V8 with 4 x BMW801A, prototypes for Ju90S-series, V9 and V10 not finished
Ju90S with BMW801A, planned transporter version, no serial production
Ju90Z3 export version of the A1 series, see Ju90A1
Ju90V11/V13 prototypes for Ju290, finished as Ju290V1 and Ju290V2

Ju290/390 Aircraft
Ju290V1/V2 with 4 x 1150kW BMW801MA (ex Ju90V11 and Ju90V13), Ju290 prototypes, 1942
Ju290A1 transporter aircraft with 4 x 1150kW BMW801L2, 9 built
Ju290A3 long range surveyer with 4 x 1150kW BMW801D/G and larger fuel capacity
Ju290A4 as A3, only productional differences, BMW801D2, five aircraft built
Ju290A5 as A4 for naval operations, 11 built, 3 aircraft were later transfered to Lufthansa
Ju290A7 as A5, with better radar equipment, BMW801G and longer fuselage
Ju290A8 as A5 with better radar equipment, two built, but unfinished at end of WWII
Ju290A9 as A5 for transporter missions.
Ju290B surveyer aircraft, with 4 x BMW801E, derivated from Ju290A7, with pressured cabin in 1944
Ju290C projected high altitude transporter
Ju290D projected high altitude bomber
Ju290E projected night bomber aircraft
Ju290Z projected "Zwilling" mistel aircraft of 1942

Ju390A1 transporter aircraft with 6 x BMW801E, one built in 1943, second not completed.
Ju390B long range surveyer aircraft
Ju390C long range bomber aircraft

L290 (Orel) a single aircraft, a completed Ju290 by Letov in Czechoslovakia

Weblinks:
Literature:

introduced Jul 1996, transfered Aug 2017
http://hugojunkers.bplaced.net/
contents last updated 5 Jul 2003