Pirna (Junkers) 018
13 stage compressor, 9 ring burner Chambers, 4 turbine stages, PTL Engine with 5000hp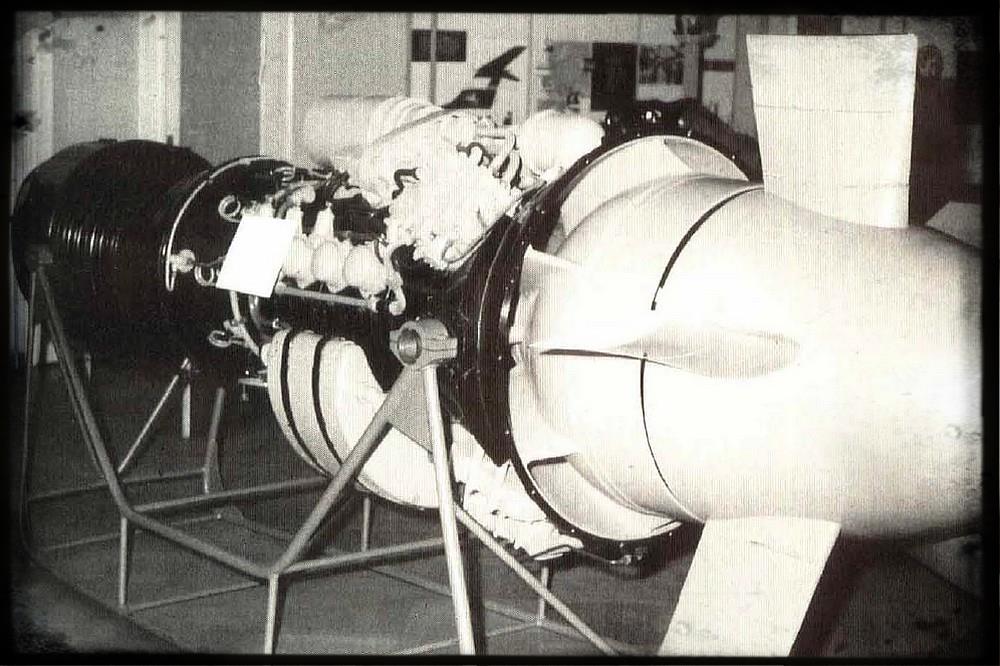 Pirna 018 Mockup (on Display in Verkehrsmuseum Dresden)
While the Pirna 017 was a turbine for Baade's 130hp Turbine car of 1957, the next aircraft engine was the Pirna 018. It was a 5000hp PTL engine, which was intended for the Baade 153 and 154 passenger airliner. The development was already started in 1956.
The Basic design was oriented at the Jumo 012 from 1948. The Pirna 018 had a 13 stage compressor with movable blades in the first four stages. The ring burner consisted of 9 Chambers and the turbine consisted of 4 stages, which were connected to the axial compressor. A mockup Pirna 018/V0 was built and the initial prototype Pirna 018/V1 performed its first test run on 28 November 1958. Testcell runs were performed with -V1 and -V2 until May 1959.
The -V3 got a modified compressor, which was tested on the compressor testcell. In May 1959 the Pirna 018 development was stopped in advance of the Pirna 014. Just the compressor Tests continued until 1960 as a modification of the Pirna 014 compressor was intended in the same way like the Pirna 018/V3.
Just one mockup and two Pirna 018 were completed plus one Pirna 018 compressor. The Pirna 018 Mockup was later transfered to the Verkehrsmuseum in Dresden, where it was on Display. In 1988 it was scrapped in Dresden.
Technical Data:
Engine Designator
year
Compressor
Burner
Turbines
length
in m
max diameter
in m
Weight
in kg
Max. Power
in kp
r.p.m.
Pirna 018
1955
13
9
4
3,68



1300
5000
13100
Weblinks:
Literature:
Klaus Mewes
Pirna 014 - Flugtriebwerke der DDR
Aviatic Verlag, 1997, ISBN 978-3925505393
introduced Aug 2017, transfered Aug 2017
http://hugojunkers.bplaced.net/
contents last updated 30 Aug 2017