Junkers Fo2
Six Cylinder, four strokes, benzole driven, horizontal, developed 1918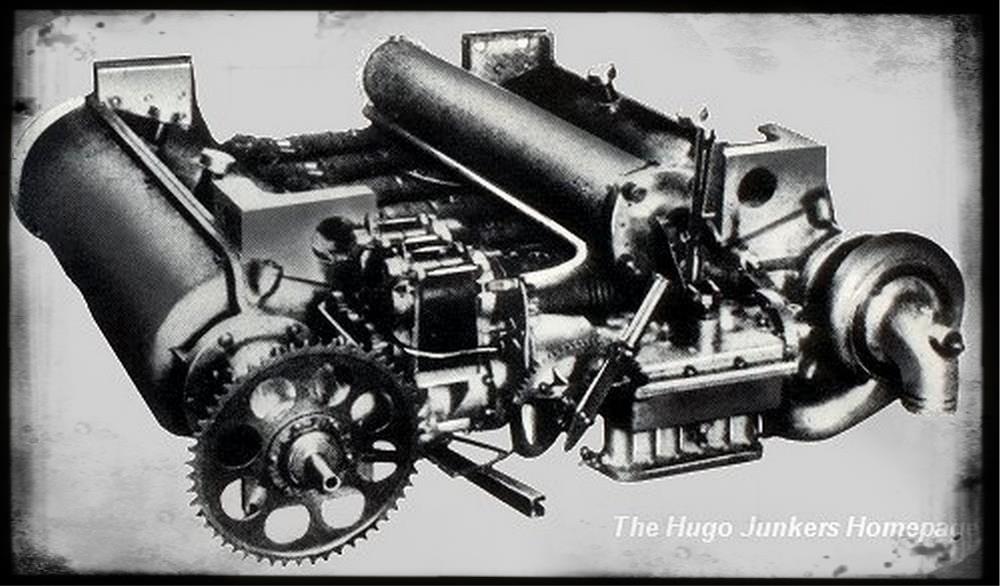 The Fo 2 was a six cylinder horizontal opposed piston engine, which picked up all successfull features of the Mo 3 to Fo 1 designs. Primarly the Fo 2 was intended as a pure aircraft engine, but the IDFLIEG was not interested in Diesel engines during WWI. As the German Navy was interested in an oil engine for their fast attack boats, the Fo 2 therefore was also designed as a small ship engine. Also Hugo Junkers advised Dr. Mader to change the oil engine design into a gasoline engine. This task was driven by Otto Reuter and Gruber, who joint the Versuchsanstalt in Aachen in 1916. While the first Fo 2 engine in 1917 was a Diesel engine, the second prototype was a redesigned Reuter gasoline engine. Both engines were built by Linke-Hofmann and got their initial test runs in January 1917.

The Fo2 was still not reliable enough to be fitted into an aircraft in 1918. In 1920 Yserentant added several improvements together with Linke-Hofmann to the Fo2, which was later called EFo 2. Junkers intended to use the Fo 2 on his large scale airliner Ju G1. With the restrictions upon Germany's aircraft industry in May 1921, the Fo2 did not match the allowed power limits of the Allied commissions. But while the Ju G1 was destroyed on request of the Internation Control Commission, the Fo2 engines were transfered from Dessau to Aachen, where they were stored until the end of the restrictions in 1922.

The Fo2 engine was the initial step towards the later Junkers oil and diesel engines. But it still took seven years until the first real Junkers diesel engine became available with the Junkers Fo3.

Technical Data:
Engine Designator
year
Cyl.
Bore
in mm
Stroke
in mm
Volume
in litres
Compress.
in %
length
in m
Height
in m
Width
in m
Weight
in kg
T/O Power
in kW
Cruise Power
in kW
RPM.

Fuel
Consump.
g/kWh
Fo 2
EFo 2
1917
1918/1921
6
6
110
110
2x150
2x150
17,1
n.a.
n.a.
n.a.
n.a.
776
349
368
n.a.
1800
1800
n.a.


Aircraft Types equipped with Fo 2:
None used in aircraft.
intended for
Ju G1
Weblinks:
Literature:
National Advisory Committee for Aeronautics
Development of the Junkers Diesel Aircraft Engine
Washington, May 1930, Download PDF here
introduced Nov 1996, transfered Aug 2017
http://hugojunkers.bplaced.net/
contents last updated 13 Aug 2004