Junkers T26 / T27
see also: Junkers T26/T27 Production List
Two seater highlever monoplane or double wing Trainer , F/F 14 Oct 1924
developed by Junkers Flugzeugwerke in Dessau by Zindel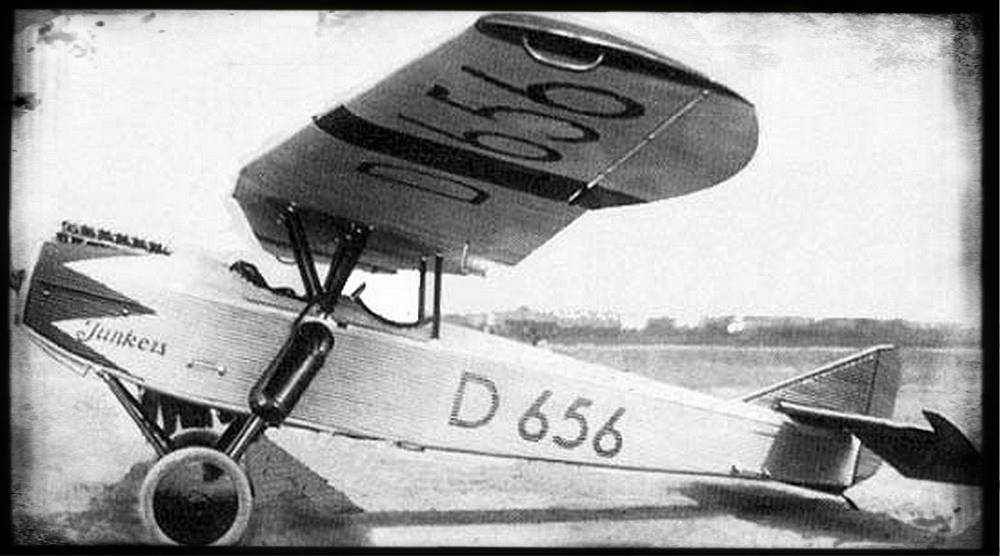 Junkers T26 with single upper wing
Historical Background:
The Junkers T26 was a continued improvement of the T19 and T23 developements. This aircraft was very similar to the T23 in its look and its dimensions, but was much more aerodynamic. The T26 was the last of the highlever monoplane series started with T19 and continued with T23. The prototype was first flown on 14th October 1924 in Dessau.

Junkers T26D with double wing installation
As the earlier designs the T26 could be equipped with an additional second lower wing (T26D) or with a single top wing (T26E) In 1925 a small Serial production of the Junkers T26 was started. But the aircraft was too expensive for normal flying schools. Also the German Reichswehr wasn't interested in the aircraft. In sofar the T26 was kept as an experimental aircraft for further design studies. A total of six Junkers T26 were finally built. A single T26E was equipped with an Argus engine in 1931.
Walter Blume and Karl Plauth used two Junkers T26 at the German Round Flight 1925, of which one got the fourth place of its class.

The T27 was a modified T26E. It got a Clerget 9Z engine. This aircraft was built as a single aircraft due to the request of a former fighter pilot during 1925. Later it was reconfigurated to T26 standard. The T26/T27 was the last Junkers aircraft with top or double wing design. It finished the developement line of the J15/K16/T19/T23/T26.
Aircraft

year
engine
length
in m
span
in m
wing area
im sqm
net weight
in kg
payload
in kg
seats
speed
in km/h
range
in km

T26E
T26D
T26E
T27

1925
1925
1931
1925

Junkers L 1a (62kW)
Junkers L 1a (62kW)
Argus As8
Clerget 9Z (96kW)

7,54
7,54
7,54
7,54

13,50
13,15
13,50
13,15

21,50
33,20
21,50
33,20

500
575

n.a.

230
230

n.a.

1 pilot+
1 pass.

130
115

n.a.

345
300

n.a.
T26&T27 Designators:
T26E, cantilever monoplane with Junkers L1a engine
T26D, double wing Version with additional lower wing
T27, with Clerget 9Z engine
Weblinks:
Literature:

introduced Jul 1996, transfered Jun 2017
http://hugojunkers.bplaced.net/
contents last updated 12 Jan 2003