Junkers J12
4 seater Passenger Airliner of late 1918 / early 1919, none built
developed by Junkers Flugzeugwerke in Dessau, designed by Otto Reuter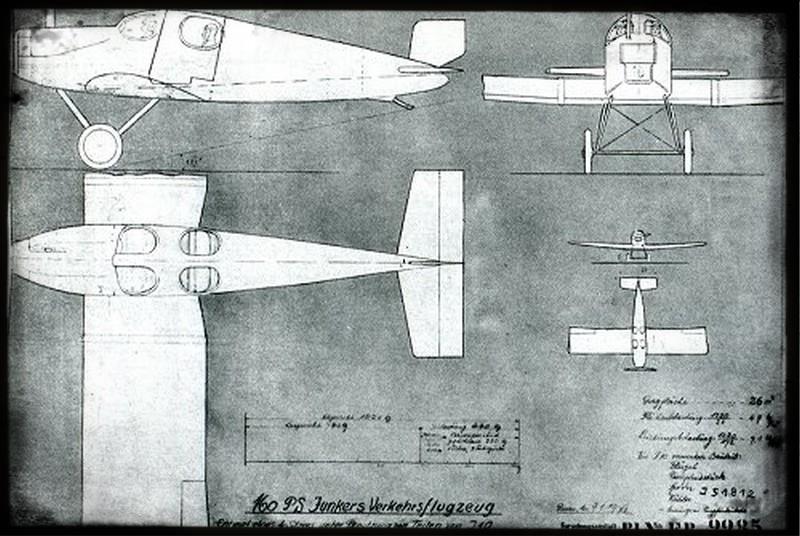 Historical Background:
Following the surrender of the German Forces in November 1918, Hugo Junkers advised Mader and Reuter to think of a civilized version of the Junkers J10 aircraft. Initial modifications were made on one or two of the J10s, which were still under production for IDFLIEG in December 1918. These aircraft were equipped with a hood above the rear seat. In this configuration the aircraft served the initial air traffic for Junkers Luftverkehr in March 1919. But it was obvious, that such wartime conversions would not fullfill the demand for economic passenger aircraft. Therefore in December 1919 Reuter was asked to start a complete redesign of the J10 as a passenger airliner. The type designator J12 was used for this redesign project.

Reuter designed the J12 as four-seated aircraft. Most parts of this design were taken from the J10, like the wing, the rear and front parts of the fuselage and the undercarriage. The new design feature of the J12 was a new center fuselage, which was wider and higher than on the J10 and which should accomodate the cabin for passengers and the pilot seat. This J12 design was already available in January 1919, but a cabin mockup showed, that the demands for passenger convenience could not be fullfilled with the small J12 cabin. Therefore the complete J12 design was stopped and a new design was started under the designator J13.

Technical Data
Aircraft

year
engine
length
in m
span
in m
wing area
im sqm
net weight
in kg
payload
in kg
seats
speed
in km/h
range
in km

J 12

1919

Mercedes IIIa (118kW)

8,25

12,25

25,00

n.a.

n.a.

1 pilot

170

n.a.
Some Sources also mention the Junkers J12 as a Parasol fighter aircraft. It might be, that the Junkers J12 initially was intended to be a further development of the Junkers J6, but was stopped after the end of the war Action in a very early stage.
Literature:

introduced Jul 1996, transfered Jun 2017
contents last updated 25 Dec 2002