Lettlaendische Luftverkehrs AG
Latvijas Gaisa Satikimes A/S, Riga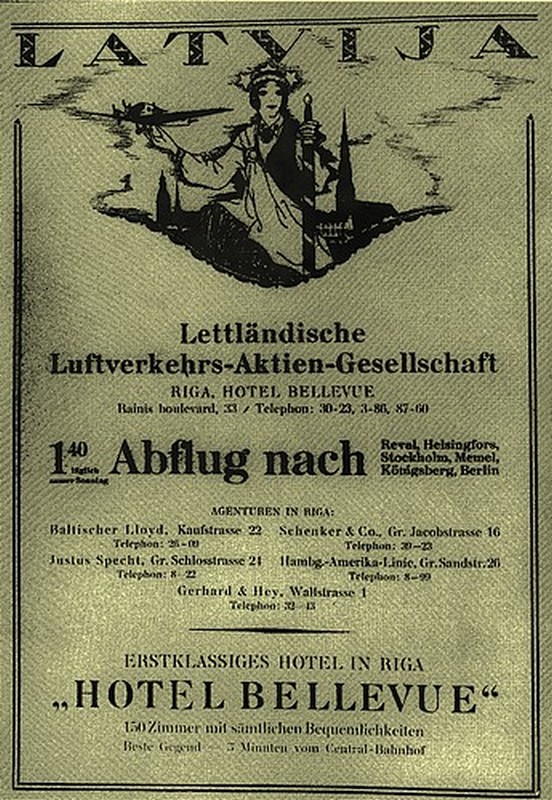 Latvian Air Transport Poster

Founded:
31.07.1921 founded
July 1923 Start of regular flight operations

Shareholders:
Junkers Flugzeugwerke A.G.

Management Positions:

Network:
Riga to Memel and Koenigsberg since July 1923
Riga to Reval

Company Development:

The Latvian airline Latvijas Gaisa Satikmes A/S was already founded in 1921, but was unable to start operations. When Danziger Luftpost tried to expand the Lloyd Ostflug routes to Latvia first connections between Junkers Luftverkehr and the airline were established and in spring 1923 a cooperation agreement was signed. In July 1923 first operations were started between Riga, Memel and Kongisberg. At that time Latvijas Gaisa Satikmes A/S was member of the Osteuropa-Union and operated these routes in cooperation with Danziger Luftpost connecting both networks at Koenigsberg. In 1923 another partner became available when Aeronaut joint the Osteuropa-Union and extended its Reval-Helsinki connection to Riga. Latvijas Gaisa Satikmes A/S was absorbed by Junkers Luftverkehr in 1925.


This Reval connection brought the next partner to Junkers Luftverkehr. The Reval based A-S Aeronaut joint the route network with the links between Reval and Helsinki in late summer 1923. Aeronaut was founded by Luftverkehr Sablatnig and Dansk Luftexpress on July, 21th 1921. It already served the Reval-Helsinki route, when it left the Lloyd-Luftdienst organisation and integrated it into the Junkers network.
introduced Aug 1996, transfered Dec 2017
http://hugojunkers.bplaced.net/
contents last updated 28 Dec 2004