Junkers Fo4 / Jumo 4 / Jumo 204
Six Cylinder, two strokes, vertical opposed piston, diesel oil engine
also named SL.I, British License: Napier Culverin



Jumo 4 Engine of 1928

The Fo4 is a further development of the Fo3 engine. It was developed during 1928. Instead of five cylinders, the Fo4 had six cylinders for the first time. The Fo4 2-stroke diesel comprised 6 in-line vertical cylinders, 12 pistons and 2 crankshafts coupled by a gear train. The lower pistons opened the intake ports, the upper ones opening the exhaust ports.

The Fo4 was the first Junkers Diesel engine, which was mounted on an aircraft. The first flight with a Junkers Diesel Oil engine was performed on 30th August 1929 with a Junkers F24 (c/n 832) enroute from Dessau to Cologne. This Fo4 driven aircraft was designated as Junkers W41. The designator for the Fo4 was changed to Jumo 4 in 1931. Another designator for the Fo 4 was SL1. This designator was used in PR material of Junkers but it refers to the same engine.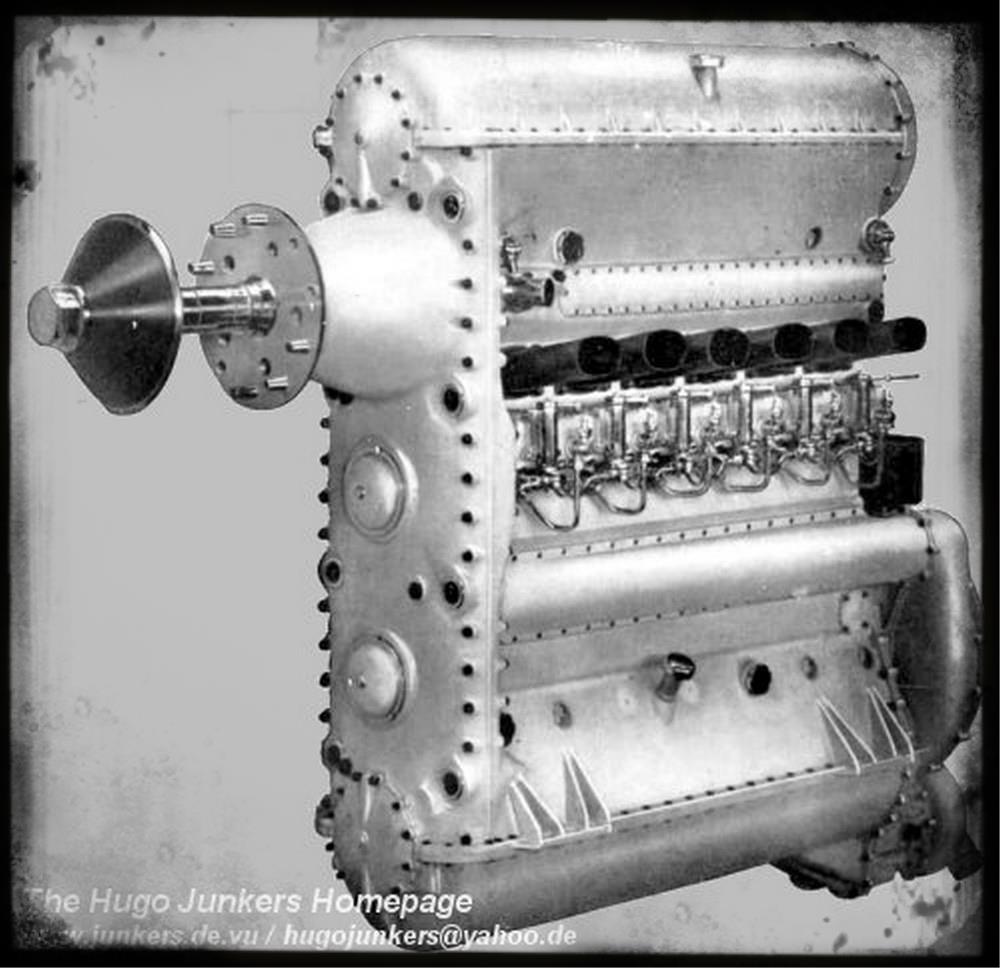 Jumo 204 engine of 1931

Certification of the engine was achieved in 1930 in the second approach after several modifications had been performed and the Jumo 4 was intensively tested on another F24 (c/n 833). Parallel to the certification modifications, the Jumo 4 was improved by its power as well as from its reliability. As problems were rising during the type certification of the Jumo 4, which also reduced the maximum power, available from this engine, further trials and improvements were made on the engine after certification. After implementing this changes on the engine, it was designated Jumo 204 in 1931.

The Jumo 204 was the last developement step. Compared to the Jumo 4, the pistons of the Jumo 204 got crowns of heat resistent steel It offered more power on same turn rates and was higher pressured.

Three variants Jumo 204A, B and C were offered with different airscrew drives. The Jumo 204 was the first commercially offered Junkers Diesel Oil Engine. F24 cargo aircraft and the G38 were equipped with this engine. When the Jumo 205 became available, the Jumo 204 production stopped in 1935. The Jumo 204 was also produced under license at Beardmore in England as the Napier Culverin since 1935 in smaller numbers and at Companie Lilloise in France.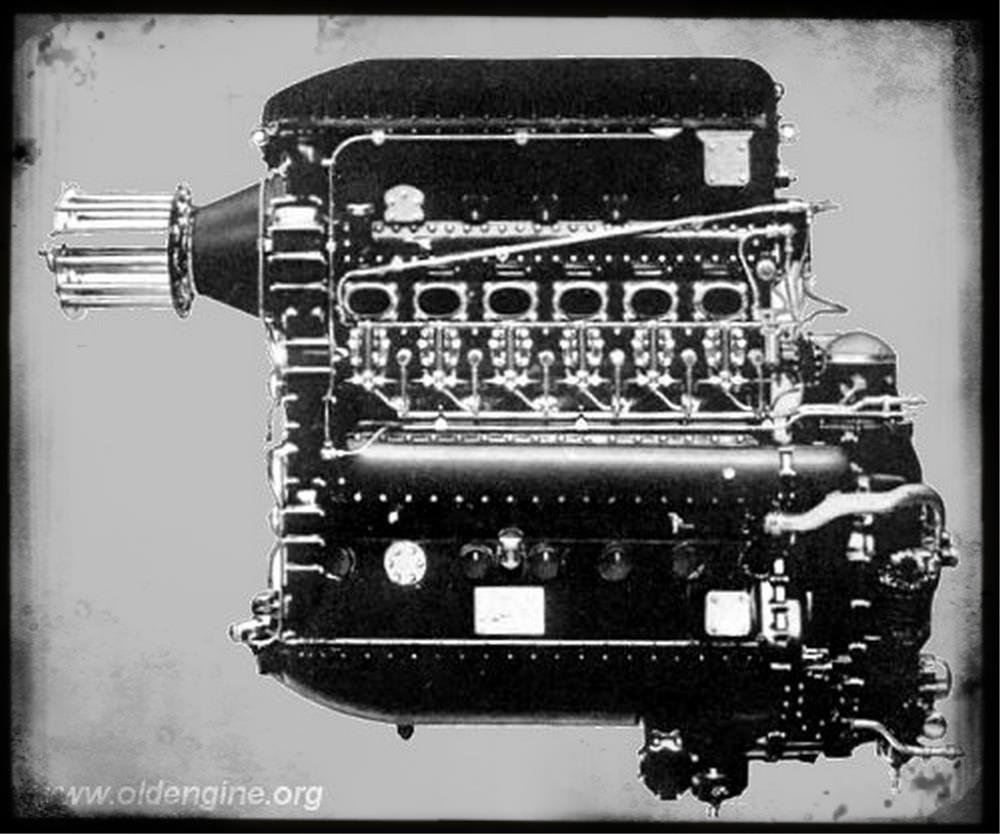 Napier Culverin of 1935


Technical Data:
Engine Designator

year

Cyl.

Bore
in mm
Stroke
in mm
Volume
in litres
Compress.
in %
length
in m
Height
in m
Width
in m
Weight
in kg
T/O Power
in kW
Cruise Power
in kW
RPM.

Fuel
Consump.
g/kWh
Fo 4 (SL1)
Jumo 4
Jumo 204
Napier Culverin
1928
1931
1931
1935
6
6
6
6
120
120
120
.
2x210
2x210
2x210
.
28,5
28,5
28,6
.
16,6
16,6
17
.
1,7
n.a.
1,46
.
1,68
n.a.
1,51
.
0,51
n.a.
0,51
.
800
n.a.
750
.
551,6
530
551,6
720hp
441,3
n.a.
441,3
.
1600
1800
1800
1700
244,7
n.a.
210,7
.


Aircraft Types equipped with Fo 4:

Junkers W41
D-1051 (an ex G24) was the first aircraft to be equipped with a Junkers Diesel Oil engine.
According to Junkers internal references, this aircraft, a single engined G24 was designated as W41.
On August, 30th 1929 it performed the first flight with a Fo4 engine from Dessau to Cologne.
Only a single F24 (W41) was equipped with the Fo4. Later conversions were made with the Jumo 4.
Those F24 equipped with the Jumo 4 were designated F24 kay.


Aircraft Types equipped with Jumo 4 / Jumo 204:

Junkers F24 kay
D-2175 (also an ex G24) was equipped with a Jumo 4 in 1931 and used for type certification.
This original F24 was designated F24 kay. Later F24kay were equipped with Jumo 204.

Junkers Ju52 1mdo
The Jumo 4 was also tested on the single engined Ju52/1m.
The engine was mounted to the Ju52 prototype D-1974
and the aircraft was designated Ju52do.
D-1974 was the only Ju52 to be equipped with a Jumo 4 / Jumo 204 engine.
Later some Ju52 were equipped with the Jumo 205.

Junkers G38 ci, di, fi
In 1934 the two wide body aircraft Junkers G38 were converted to Jumo 204 engines.
The four Junkers L88 of the G38a (D-2000) and G38ce (D-2500) were replaced with Jumo 204A.
The D-2000 with Jumo 204As was designated G38di, while D-2500 was designated G38ci.
D-2500 was again modified later on to G38fi, but kept the Jumo204A engines.

Blackburn Flying Boat
The Napier Culverin was tested in a Blackburn Flying Boat in England
Weblinks:
Literature:
National Advisory Committee for Aeronautics
Development of the Junkers Diesel Aircraft Engine
Washington, May 1930, Download PDF here
introduced Nov 1996, transfered Aug 2017
http://hugojunkers.bplaced.net/
contents last updated 27 Sep 2003