other Junkers Airlines
In addition to the above airlines some more airline foundations are mentioned in some literature sources. One of these airlines was Societa Aerea Mediterranea, which was founded in 1923 in Italy with the support of Hugo Junkers. Probably this airline should be used for the route extension to Triest and Venice from Vienna. It is not known if this airline became a regular member of Transeuropa Union or Europa Union or if this airline started operations for the Unions towards Italy.

Another airline was Lineas Aereas Postales Espanoles in Spain, which was founded in 1925. It is possible, that Junkers took shares in this airline for the delivery of aircraft. It is not known, if there were any connections to Europa Union. But this airline might have been used, if the planned Cote d'Azur route of Europa Union would have been established in 1926 and would have been extended to Spain later on. But no details are available about this airline connection to Junkers.


Nederlandsche Werekdverkeer Maatschappij - NWM

Nederlandsche Werekdverkeer Maatschappij - NWM was already formed in 1922 in the Netherland. This company was needed for routes to the U.K. Junkers took 20000 Gulden of the share capital in exchange for his Junkers F13, which he provided to NWM. It took until 17th July 1925, when NWM started operations together with LURAG and Junkers Luftverkehr from Amsterdam to Essen-Dorsten and forward to Berlin. But already in 1926, when Junkers and Aero Lloyd were merged into Lufthansa, NWM continued on its own. Further cooperations were made with A.B. Aerotransport on the Northwest Passage later on. The company was finally dissolved in 1934. (read also: European Airlines)


Air Express Co. LTD

The second airline, which was used for the routes from Germany to England, was Air Express Co. LTD. It was founded on 21st July 1925 by Hugo Junkers (42%) and the Trost Brothers (58%). Air Express was operating from London to Amsterdam in cooperation with Imperial Airways and was feedering NWM flights to the Ruhrgebiet from England. Nevertheless, Air Express was not operating flights on behalf of its own, but was using NWM and Imperial Airways aircraft for its service. In sofar it was not much more than a sales office in the U.K. Junkers still kept his investments in Air Express after the loss of Junkers Luftverkehr. In 1930 Junkers seperated from Air Express without any known repayments. The company was probably dissolved shortly afterwards (read also: European Airlines).
Società Aerea Mediterranea – S.A.M (Italy 1923)
Already during the setup phase of Transeuropa Union Junkers intended to built a routing from Zurich to Genua, Naples and Brindisi with extensions to Athens and Smyrna. The Italian network was established at Naples, where the General Manager Rota of the Grand Hotel Napoli was responsible for the routing from Genua to Naples and Brindisi. Similar discussions were on its way in Greece. It was intended to open scheduled services on that route in August 1923. Società Aerea Mediterranea was under foundation at that time.
However, due to the Italian occupation of the Island of Korfu in August 1923, the opening of the route was further delayed. A new approach for an operational start was taken in 1925, when a routing from Italy to Albania and Tunis was certified by the Italian Government. But it took until March 1928 to establish S.A.M. General Francesco de Pinedo became the first chairman of the director board of S.A.M. However, this operational start was completely independent from the Junkers activites and flights from Rome to Caligari had to wait until 21st April 1928. S.A.M. later merged with Transadriatica into Ala Littoria, which was forerunner of todays Alitalia.
Società Anonima Transadriatica (Italy 1925)
In October 1924 Junkers discussed the routing from Vienna to Trieste with a possible extension to Rome with Carl Kuppelwieser, another hotel manager at Brioni. These discussions led to the foundation of Società Anonima Transadriatica in 1925 and it was intended to start operations in 1926 between Venice and Rome with an extension to Vienna. The aircraft should be supplied by Junkers Flugzeugwerke and S.A. Transadriatica was intending to provide its services within the newly formed Europa Union. However, due to the collapse of Junkers Luftverkehr operations were started in 1926 as an internal Italian service between Venice and Rome. Regular service were inaugerated on 1st February 1927. On 19th April 1927 this service was extended to Vienna and in 1931 a service to Munich was established in cooperation with Luft Hansa. Other Routings to Brindisi and Monaco were introduced in 1928. In December 1931 S.A. Transadriatica was merged with Società Aerea Mediterranea.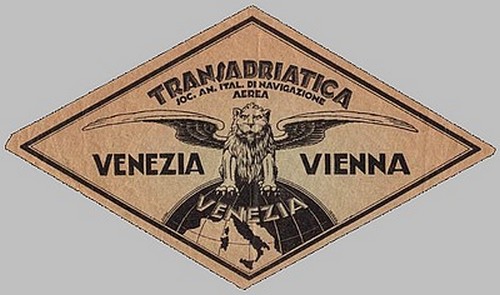 Transadriatica Tag of 1926
(c) Time Table Images
Union Aerea Espanola (U.A.E., Spain 1925)
Spain was a special market for the German Aviation Industry. Since the early 20s Zeppelin Luftschiffbau was investigating routes from Germany to South America. In 1922 discussions were started between Zeppelin and Compania Transaerea Columbus about a routing through Spain, from La Coruna to New York and from Sevilla to Buenos Aires. Therefore Junkers was interested in connecting Germany and Spain with feeder flights for the Zeppelin Transatlantic Flights.On 28th November 1925 Junkers founded Union Aerea Espanola together with a group of aeronautical industrials at Getafe. Junkers took a 25% share package in exchange for three Junkers F13 aircraft. It was intended, that U.A.E. should operate routes from Madrid to Lisboa and from Madrid to Italy or Switzerland to connect the Iberian aera to the Transeuropa network.
A few days after the foundation, Junkers Luftverkehr lost its control about its own management and was integrated into Luft Hansa A.G. in January 1926. As a consequence the Junkers support for the U.A.E. operation was lost. As U.A.E. did not manage to achieve its operational rights, the three Junkers aircraft were finally delivered to the Spanish Red Cross, which used the aircraft in the Marocco campaigns of the Spanish Army. But on 29th April 1927 U.A.E. managed to start its operation from Madrid to Lisbon and from Seville to Lisbon. Both routes were operated by U.A.E. in cooperation with Servicos Aereos Portugueses in Portugal, which was another airline founded by Junkers in 1925. S.A.P. worked as an handling agent for U.A.E. in Portugal. Later Madrid to Seville was added to the U.A.E. network, which now became a closed triangle. Even if the Junkers support was no longer available, U.A.E. used Junkers G24 trimotors on its services.
In February 1929 U.A.E. was integrated into the newly formed monopol company C.L.A.S.S.A. Traffic Rights and the G24 were transferred to C.L.A.S.S.A., while U.A.E. kept two F13 and still operated the Sevilla to Granada charter route during the Latin-American Exhibition at Sevilla. U.A.E. received 12% of C.L.A.S.S.A. shares and following the closure of the Latin-American Exhibition U.A.E. was finally dissolved in January 1931.
Further Reading about U.A.E. at La Aviación Comercial en el Espacio Aéreo Español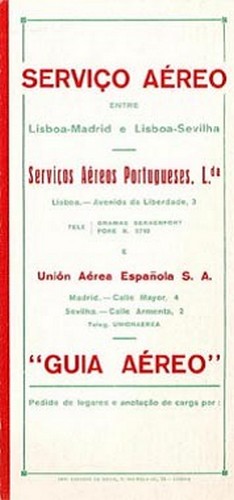 U.A.E. / S.A.P. Timetable1927
(c) Time Table Images
Serviços Aéreos Portugueses Limitada – SAP (Portugal 1922)
Companhia Portuguesa de Navegação Aerea Lda
Initial steps toward the Portuguese market were made by Junkers in 1922. Junkers offered some of his Junkers F13 to Companhia Portuguesa de Navegação Aerea Lda and asked for shares in exchange. However, it took until November 1925 until a Junkers aircraft arrived in Portugal. Further delays were caused by the Junkers collapse in Europe. Finally on 19th May 1927 S.A.P. was founded for serving routes from Europe to Albania. As Junkers Luftverkehr no longer existed at this time, Junkers Flugzeugwerke A.G. became the shareholder of S.A.P. and IFA took 40% of the total 1 million Escudos share volume. The remaining 51% were taken by private owners: Antonio Alberto d'Eca de Queiroz, J. Wimmer & Co. , Willi Albert Grote and Josée Vieira de Fonseca.
Instead of the planned Albanian routes of Transeuropa, S.A.P. now developed a routing from Lisboa to Madrid and Sevilla with the support of U.A.E., where S.A.P. was the handling agent in Portugal and U.A.E. was the operator of the flights. When U.A.E. merged into C.L.A.S.S.A. in 1929 the services were suspended and S.A.P. tried to relaunch the service on own responsibility. S.A.P. received a Junkers F13 from Junkers for this service. However, the Spanish and the Portuguese Government were not able to establish traffic contracts between both countries and finally the Civil War broke out in Spain. The F13 returned to Germany in July 1930. S.A.P. did not fly during the years from 1930 to 1936, however it still existed as an independent airline and IFA still holded shares in the company. But in 1937 the S.A.P. shares were transferred to Lufthansa. S.A.P. continued to act as a handling and sales agent of Lufthansa in Portugal until April 1945. After WWII the company was finally dissolved.
Further Reading about U.A.E. at European Airlines


Others

Junkers Flugzeugwerke took shares in several other airlines worldwide, i.e. SCADTA in Colombia. But these participations of Junkers were only used for financing the bought Junkers aircraft of these airlines. It does not seem, that Junkers Luftverkehr really intended to expand the European services to other continents in 1924/25.


Further Reading:
introduced Jul 2005, transfered Dec 2017
http://hugojunkers.bplaced.net/
contents last updated 8 Jul 2005