Junkers EF130
Wing-only long range jet bomber design, 1943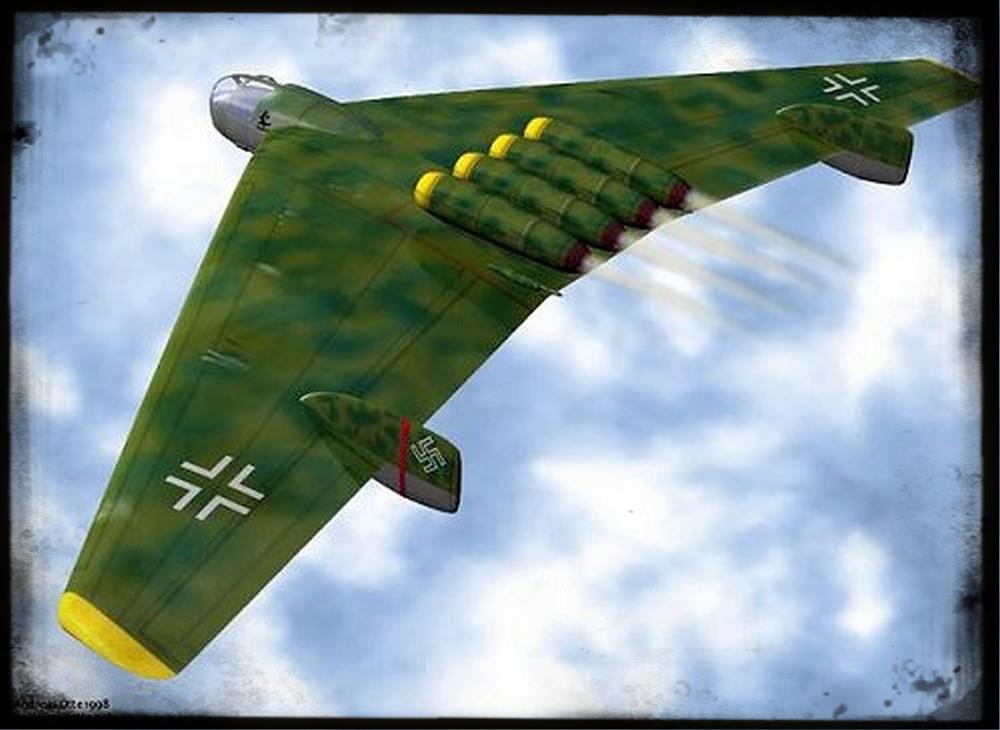 Junkers EF 130 Art Work
(c) Andreas Otte, loaded from Luft'46 by Dan Johnson.
Initial work for the EF130 seemed to be started in late 1943. The developement was a joint venture of Junkers and the Deutsche Forschungsanstalt fur Segelflug - DFS and it was focused on Goering's request for a fast long range bomber, which should be capable for a 8000km flight with a pay- or bomb load of 4000kg. Initial approaches for this request of Germany's aviation industry saw conventional prop and jet designs with fuselage and wings, but in 1944 all prop designs were rejected due to the improved speed of jet bombers. Junkers initially worked on an improved Junkers Ju287S, which was specially developed for long range missions. But this design was unable to fullfill the required bomb load demand. Due to the experiences from the Horten wing only designs, the RLM came to the conclusion, that a wing only design would be the best approach for the long range mission with high payloads. Several parallel developements followed this idea:

Messerschmitt P1107 (and later P1108)
Horten Ho XV III
Arado E.555
BMW Jet Bomber Project II
Junkers EF130

The EF130 was one of the wing only designs with wooden outer wings and metal inner wing and fuselage. The cockpit section was integrated in a gondola, which sits at the front of the wing section. It looks very similar to the DFS40 cockpit design and probably might have been taken from the DFS team.

The last EF130 designs are dated from February 1945. The projected range of 6000km and the speed of 1000 km/hrs would be enough for a high speed transatlantic bomb attach raid. However, the Heinkel and Horten designs showed better performance data than the Junkers/DFS layout. Especially the Horten XV III with its metal and textile structures was finally promoted by the RLM. A further design was the EF135, also known as EF130B. This design saw a combination of props and jet engines.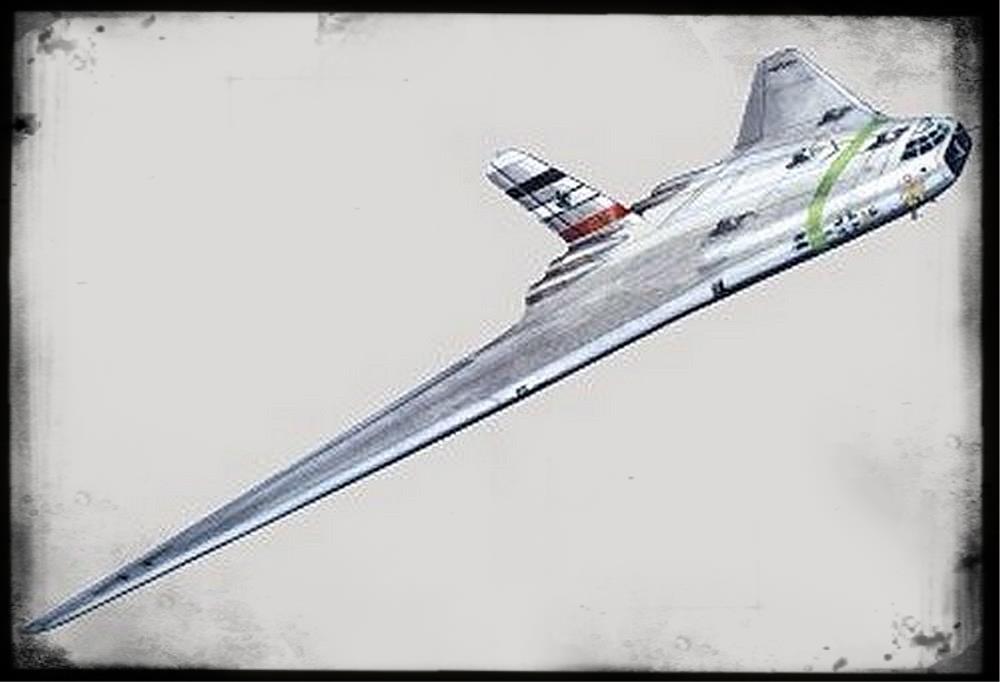 Junkers/DFS Long Range Jet Bomber Design of 1945
from Herwig/Rhode "Geheimprojekte der Luftwaffe I"

At the same time, when the EF130 was developed at Junkers, another delta bomber design was under work. This design seemed also to be a cooperation between Hertel and the Deutsche Forschungsanstalt fur Segelflug - DFS. This long range bomber was a complete independed design from the EF130 and it was three times larger than the EF130. The center wing of this wing-only design got a diameter of 3,90 meters and was used as the the bomb or cargo compartement. The engines were integrated into the rear wing section and an air inlet was available at the front side of the fuselage below the cockpit section.

Due to the end of WWII this project seemed not to have reached the final design phase and therefore no type designator seemed to be allocated to this project. It also seems, as if Hertel was already thinking of a post war aircraft design for civil applications, as some sources mention this aircraft also as a passenger and cargo aircraft.


Technical Data:
Aircraft
year
engine
length
in m
span
in m
wing area
im sqm
net weight
in kg
payload
in kg
seats
speed
in km/h
range
in km
EF130
EF130B
Long Range Bomber
1944
1945
1945
1 x Heinkel He-S-011 (1300kp)
or 3 BMW-003
or 4 x Jumo 012
n.a.
.
31,00
19,40
24,00
51,30
120,00
.
110,00
T/O
38000
.
90000
3
.
8-1ß
1000
.
1030
6000
.
17000
Weblinks:
introduced Jul 1996, transfered Aug 2017
http://hugojunkers.bplaced.net/
contents last updated 5 Sep 2003